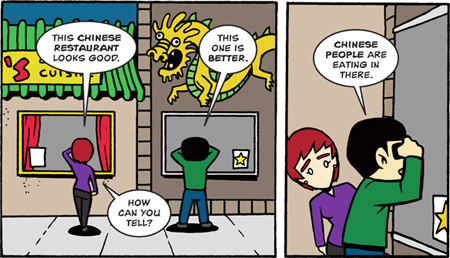 Speaking of Chinese restaurants... here's a recent
Secret Asian Man
strip that illustrates an age-old universal truth. Tak Toyoshima's comic strip finally gets national daily exposure from United Features Syndicate, and will appear in newspapers across the country (as well as
comics.com
) starting today. It's the first-ever nationally syndicated comic strip featuring an Asian American leading character.
Here's a recent interview with Tak in the
Nichi Bei Times
:
The Secret's Out!: Tak Toyoshima's 'Secret Asian Man' Becomes First Asian American Lead Character to be Nationally Syndicated
. And here's another good one from entertainment and style site Current Vine:
A Chat with Tak Toyoshima
. Secret Asian Man! Coming soon to your daily paper's comics section. To learn more about SAM, go
here
.