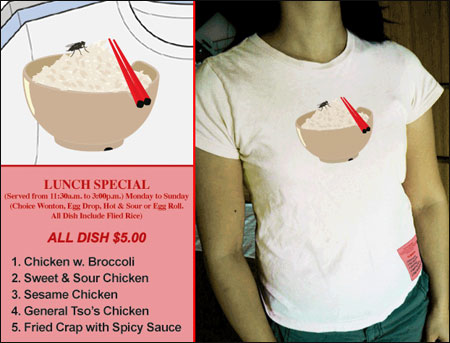 Racism and t-shirts. They're just a classic combination. From Abercrombie & Fitch, to tired jokes like
this one
, we've seen them all. And yet stupid, offensive designs continue to replenish and populate the marketplace... case in point, this
"Flied Rice"
design, seen over at Threadless. First saw this a couple of weeks ago over at
Racialicious
. Hey, have you heard the one about the dirty Chinese restaurant? Ha ha. So original. The fly is a nice touch. "Flied rice"? Wow, haven't heard that one since fifth grade.
That's racist!
EDIT: It should be noted that the t-shirt isn't actually for sale... yet. The way Threadless works, people can submit their designs and users score them. High-scoring designs can win prizes, and get printed and sold on the site. Thankfully, the way things are going now, tamphan98's "Flied Rice" is scoring pretty poorly.