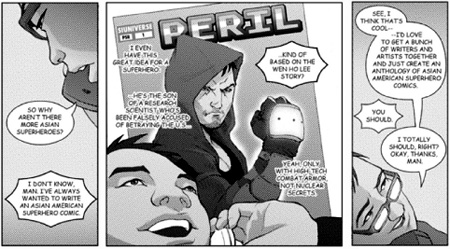 View the exclusive
Secret Identities
SNEAK PREVIEW
.
Greetings. I know I said I'd be taking a short hiatus, and I am. But I wanted to leave you with one last post announcing a very special project... Being a big comic book geek, I post a lot of stuff about comic books and graphic novels around here, because there are a significant number of talented Asian Americans working in the industry. But you ever wonder what an Asian American superhero story would look like? Or an entire anthology of such stories? Well, wonder no more.
For the past six months, bestselling author Jeff Yang, comics education specialist Keith Chow, actor Parry Shen, and independent comic creator Jerry Ma have been developing an anthology project called
Secret Identities
, "the first-ever graphic novel collection of original stories exploring the universe of masked marvels and caped crusaders from the perspective of the nation's fastest-growing and most dynamic emerging community." That means us. The anthology has been officially picked up by by the leading independent publishing house The New Press for release in fall 2008.
Here's the cool part. I've partnered up with the creators of
Secret Identities
to give you the exclusive first look at the anthology's special
SNEAK PREVIEW
issue. It's sort of the project's requisite "origin" issue. View it
here
. It's really great stuff.
Although top talents from the mainstream comic industry have already agreed to contribute stories to
Secret Identities
--including writers Greg Pak (
World War Hulk
) and J. Torres (
Batman Strikes
) and artists Sean Chen (
Iron Man
,
Nova
) and Cliff Chiang (
Human Target
), among others, the collection is actively seeking Asian American creators both within and outside the comics industry who are interested in contributing one- to six-page stories. For more information on getting involved, visit
www.secretidentities.org
. Also visit Secret Identities'
MySpace
page.