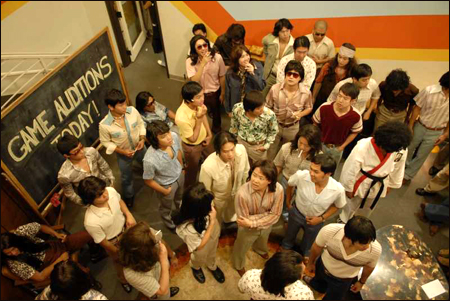 Brothers and sisters, today's the day. If you're in New York, get yourself a
ticket
to see Justin Lin's
Finishing the Game
, opening exclusively today at the IFC Center. If you're not in New York, the movie is also available
on demand
on cable and satellite carriers in homes nationwide. So check it out! It's a comedic mockumentary about the search for a replacement Bruce Lee to finish
Game of Death
after the martial arts superstar's untimely death in 1973. Starring some of the usual suspects from Justin's previous films, including Sung Kang and Roger Fan, it's pretty good time at the movies. Basically, Justin got all his friends together last summer to make a movie and have some fun. And amidst the laughs,
Finishing the Game
manages to raise some pretty interesting issues about Asian Americans in Hollywood.
I've already said many things about supporting such films, and sending a message to Hollywood about the kinds of films you want to see—movies by us that reflect our voices, visions and community. Because Hollywood sure as hell isn't doing a good job of that right now. (Just look at the movies from this past summer.)
Finishing the Game
might not be your kind of movie, but there's no doubt it's not like anything you'll see coming out of a Hollywood studio. It's a true labor of love. Just like with
Better Luck Tomorrow
five years back, Justin and Co. had a story to tell, and they were going to make sure it happened on their own terms. You have to respect that.
So... the movie opens today at the
IFC Center
. Buy your tickets
here
. And bring a friend. The cast and crew will be on hand for Q&As after screenings throughout the weekend. And tomorrow night, October 6th, there will be a
Finishing the Game
"Meet and Greet" reception, also with the cast and crew. Looks like it's going to be a pretty good time. For more information and to purchase tickets (no admittance at the door), go
here
.
As for the rest of the country... like I said, the movie is available on demand. You can watch it tonight at home if you want. It'll also be rolling out in other cities in the coming weeks. Here's the schedule so far:
October 5th
New York, NY / IFC Center

October 19th
San Francisco, CA / Landmark Embarcadero Center
Berkeley, CA / Landmark Shattuck

October 26th
Los Angeles, CA / Landmark Nuart Theatre
San Diego, CA / Landmark Ken Cinema
Santa Ana, CA / Edwards South Coast Village
Minneapolis, MN / Lagoon Cinema

November 2nd
Salt Lake City, UT / Broadway Centre Cinema

November 16th
Philadelphia, PA / Landmark Ritz at the Bourse
Dallas, TX / Landmark Inwood
Houston, TX / Landmark Greenway
Austin, TX / Landmark Dobie
Seattle, WA / Landmark Varsity Theater
Make your plans. Call your friends. Buy your tickets. Support independent Asian American cinema! For more information about
Finishing the Game
, go the official site at
You Offend Me You Offend My Family
. I will see you at the movies.