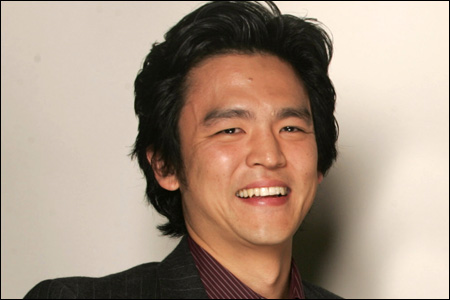 OHHHHH SNAP. Okay, you know I'm a big-ass Trekkie. I ain't afraid to admit it. I like
Star Trek
. So we've been waiting and waiting to hear who's going to play young Sulu in the J.J. Abrams' new
Star Trek
movie. There have been announcements about Spock (Zachary Quinto), Uhura (Zoe Saldana), Chekhov (Anton Yelchin) and others. But who's Sulu? This just in... believe it or not, it looks like
John Cho
of
Harold and Kumar
fame will be stepping into the role of Enterprise helmsman Hikaru Sulu:
Cho and Pegg board "Star Trek" feature
. Holy smokes. As one of the more up and coming Asian American actors out there with some heat, I guess the choice makes sense. But he definitely wasn't the first guy I thought of to step into George Takei's shoes. Crazy. Here's the official word from StarTrek.com, including a reaction quote from Takei:
New Sulu: John Cho Cast in "Star Trek" Movie
Plot details are being kept super secret, other than that the story will involve the early days of the
Enterprise
crew. Shooting starts next month for a Christmas 2008 release. In the meantime, you can catch John Cho in Michael Kang's Korean American crime drama
West 32nd
, which apparently wowed audiences recently at the Pusan International Film Festival (and is the Closing Night film at
SDAFF
), and the upcoming sequel to
Harold and Kumar
.