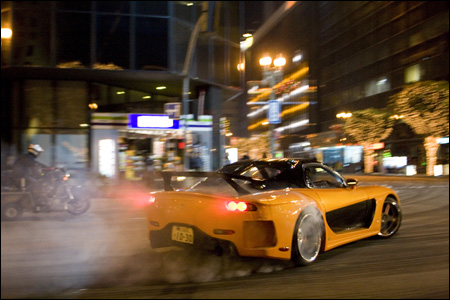 What the--!? Amidst all the talk about indie comedy
Finishing the Game
, I forgot that director Justin Lin has a legitimate big Hollywood studio career to balance too. I woke up this morning to read the news that Justin will be returning to direct the fourth installment of Universal's
Fast and the Furious
franchise:
Diesel, Walker reteam for new "Fast and Furious"
. No details on the story (something tells me it will involve fast cars), but stars Vin Diesel and Paul Walker are apparently in negotiations to return to the series. Yay.
As mindless and popcorn as this movie series is, I think this is actually great news. With Justin involved, I'm sure we can expect one or two Asian American characters popping up into the mix. Hell, maybe we can hope for the return of
Sung Kang
as Han. Okay, I know [SPOILER] his character got killed in a fiery crash in
Tokyo Drift
... but he was easily the coolest guy in that movie. Would it be possible to revisit the character, perhaps for a prequel? It wouldn't be out of the question. One can hope. Shooting is expected to begin next spring in Los Angeles, Mexico and the Dominican Republic.
Meanwhile, here's a good interview with Justin over at ComingSoon.net:
Justin Lin Tries Finishing the Game
.
Finishing the Game
opens this Friday, October 5th exclusively at the IFC Center in New York. For more information about the film, go
here
.