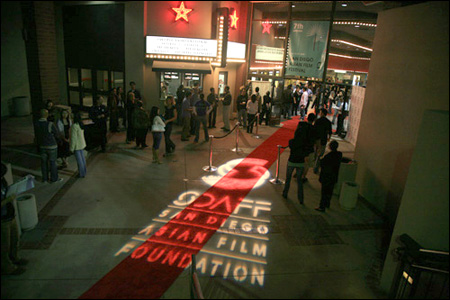 It's only Tuesday, and I'm already looking forward to the weekend... because it's all going down in San Diego, baby. Celebrate the "infinite power of cinema" at the 8th annual
San Diego Asian Film Festival
, one of the funnest film festivals in Asian America, and one of my favorite events of the year. Once again, they've put together a solid program of events, screenings and parties celebrating the best and brightest of Asian and Asian American cinema. Here's a cool story on the hard-working supermama festival director, Lee Ann Kim:
In Asian film, Kim's the edge of our Pacific Rim
. She's a pretty cool lady.
Things kick off this Thursday, October 11 with the Opening Night screening of Justin Lin's
Finishing the Game
(of course). San Diego, this is your chance to see what the fuss is all about. Come party with the cast and crew... including none other than
MC Hammer
. No joke. He's a long-time supporter of Justin's career and has a cameo role in the movie. Unfortunately, opening night tickets are all sold out, but you might have a pretty good shot at waiting in the rush line.
I've got more coverage to come, but in the meantime, check out the full schedule of events and screenings over at the
festival website
. They've got cool
articles
interviews with filmmakers like
Juwan Chung
, director of
Baby
, and
Chris Chan Lee
, director of
Undoing
. And for those of you who can't make it out to the festival, the website will feature
live coverage
of SDAFF events, everything from the Opening Night Red Carpet to the Discussion with George Takei. How cool is that? The festival runs October 11-18. Make your plans now, San Diego.