Hey! Comin' at you from the
8th Annual San Diego Asian Film Festival
. I've had a full day of screenings and events. I love going to San Diego every year because it's not only a showcase of some of the best films in Asian and Asian American cinema, it's also a celebration of the Asian American filmmaking community and its achievements. They've got a great, fun slate of events, and it's a good opportunity to see old friends and make some new ones...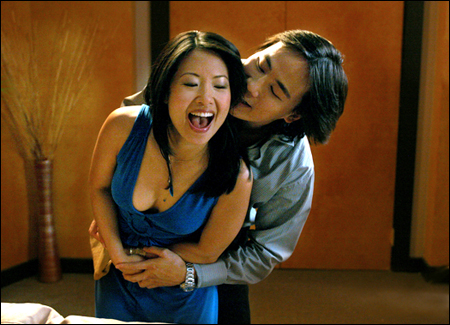 On Friday night, I finally caught a screening of Gene Rhee's indie feature
The Trouble With Romance
, a really well-made, interesting look at the dark and comic sides relationships, told through the stories of four different couples at a hotel. I loved it—tight script, good pacing, great performances. And man, what a relief. Gene's a friend, and I don't know what I would've told him if I didn't like the movie... I particularly liked the "Dumped" segment, which featured Roger Fan and Emily Liu. Good stuff.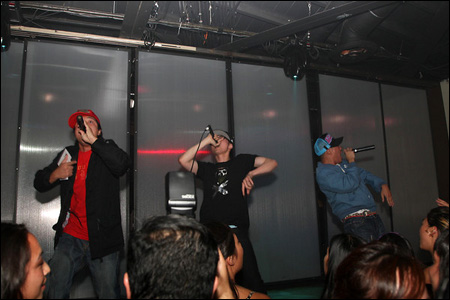 After the movie, I made my way over to the festival's music and video event Blowfish, just in time to catch the boys of the Far East Movement perform. They were dealing with some spotty microphone problems, which sucked, but still got the crowd going and put on a pretty damn good show.

Oh, and have you seen the Far East Movement's new music video? The song is "Satisfaction," and it's featured in the movie Finishing the Game (thus, the many, many yellow jumpsuits):

Don't quite understand the bit about the vomiting girl. Good times, I guess. More updates from SDAFF coming soon.