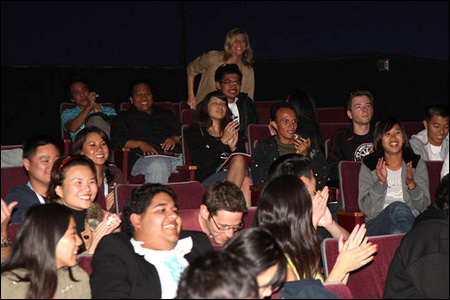 I'm back. Whirlwind weekend at the
San Diego Asian Film Festival
... Good times, good movies and good people at the Hazard Center. Some things I did: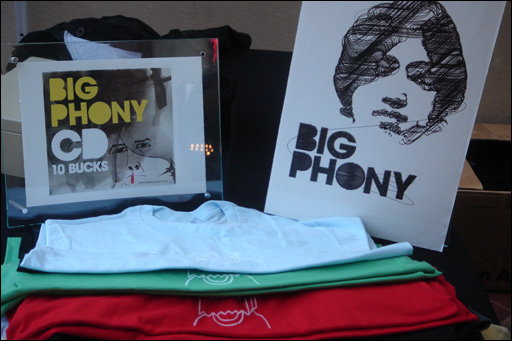 Saw some really great performers in the theater lobby, part of the festival's
Blowfish: Unplugged
acoustic showcase. Had the pleasure of finally meeting Bobby C., aka
Big Phony
, who's music I've appreciated
online
for a while now. He's a bit camera shy, but dammit, he's got some great music. I picked up his full-length CD, as well as a Big Phony t-shirt. Call me a fan.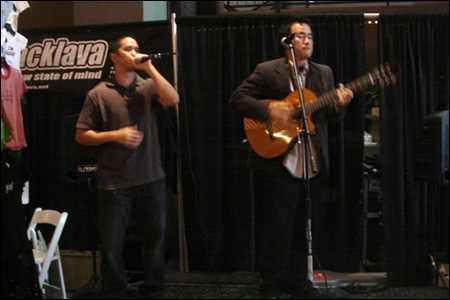 Also heard a few songs from
Terry Matsuoka
, who's music I wasn't previously familiar with, but really dug. Great stuff. He's kind of got this Amos Lee/Jack Johnson/G. Love and Special Sauce kind of vibe. I'm a new fan. Check out a few samples of his music
here
.
Spotted my man Ryan manning the
Blacklava
table in the theater lobby, selling quality t-shirts for Asian America. He was even selling the highly coveted
Nobody Loves an Angry Asian Man
shirt. Buy one, and wear it proudly.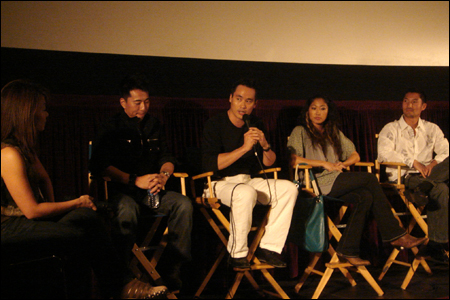 Had a chance to duck into the
Dishing with the Stars
celebrity panel, featuring the likes of James Kyson Lee, Roger Fan, Jelynn Rodriguez, Yul Kwon, Leonardo Nam, Aaron Yoo, Ron Yuan and Joy Bisco. It was a chance for these folks to share their unique perspectives on the ups and downs of being Asian American, representin' and making a living in the media/entertainment industry. If you've been to any kind of panel like this before (I've been to my share), a lot of what they talk about is kind of same, and cycles around from panel to panel. However, what I was really impressed by was the sheer number of panelists up there who are doing their thing and making substantial strides in their respective careers. While there is plenty to complain about, you can't deny things have improved from, say, even five years ago. That's encouraging.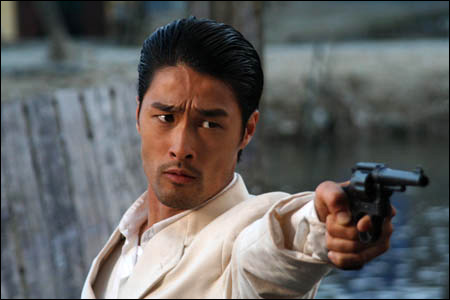 Being at a film festival and all, I figured it was a good idea to actually watch a film, so I caught a screening Charlie Nguyen's amazing action flick
The Rebel
. This was my second time seeing this movie, and I'll say it again:
it's badass
. Set in 1920s Vietnam, it's this crazy awesome epic vision of a rebel uprising fighting oppressive French colonial rule. Dustin Nguyen plays the evil turncoat villain, and it's pretty much the best role I've ever seen him in. He is one bad dude. The film was recently acquired by the Weinstein Company, so it should be available widely sometime next year. I highly recommend seeking it out.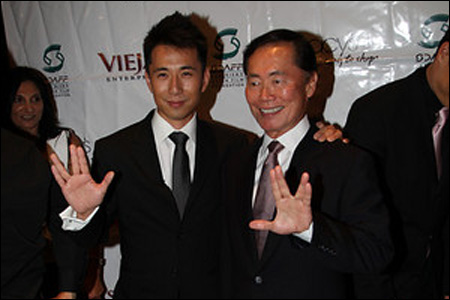 On Saturday night, the San Diego Asian Film Foundation honored legendary actor George Takei with a lifetime achievement award at the festival's annual awards gala dinner. Yes, Sulu was in the house. After an amazing fifty year career, the guy's still got it, charming the night's attendees with a rousing, inspiring speech. And afterwards, he got completely by fans and friends wanting autographs and photos. Like I said, he's a legend.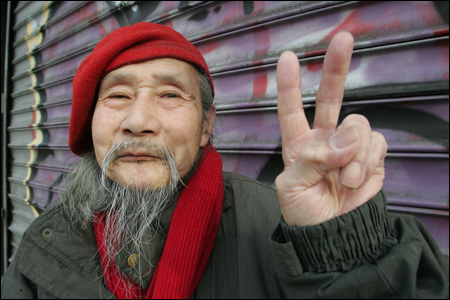 The festival also gave out honors to the best of this year's films, shorts and features alike. It was a solid group, representing some of the best works this year in Asian American cinema, with top honors going to Linda Hattendorf's phenomenal documentary
The Cats of Mirikitani
. Here's the full list of winners:
Music Video
CHAMPION by NATIVE GUNS
Patricio Ginelsa, director
Animation
CITY PARADISE
Gaelle Denis, director
Short Documentary
MOOKEY'S STORY
Carolyn Goossen & Daffodil Altan, directors
Dramatic Narrative Short
MONSOON
Shyam Balse, director
Feature Documentary
NA KAMALEI: THE MEN OF HULA
Lisette Flanary, Director
Dramatic Narrative Feature
OWL AND THE SPARROW
Stephane Gauger, director
Grand Jury
CATS OF MIRIKITANI
Linda Hattendorf, director
Funny thing is, at the banquet, I happened to be sitting (way, waaaay in the back) at the table with three of the night's winners—Patricio Ginelsa, Lisette Flanary and Linda Hattendorf. How cool is that? They had no idea they were going to win, and were genuinely moved when their films were announced. I was a proud tablemate.
Well, that's my recap. Another great weekend hanging with the fine folks in San Diego. The festival continues this week through Thursday, closing out with a screening of Michael Kang's
West 32nd
. Should be a good time. Get your tickets
here
.