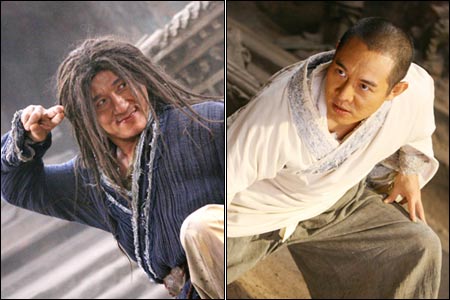 A teaser trailer for the long-anticipated Jackie Chan/Jet Li collaboration
The Forbidden Kingdom
popped up on the web last week, and suprisingly, it doesn't look like a giant pile of suckage. That said, I still don't have a lot of high hopes for this movie. Based on everything I've heard so far, the story sounds pretty unappealing. And based on this footage, it's obvious that it's going for that overblown Asian swords-and-robes aesthetic that has become so popular in recent years with western audiences. It was fun at first, but then it got pretty tiring.
Curse of the Golden Flower
was the last straw for me. The prospect of a Jet Li/Jackie Chan fight does get me kind of excited, but as I've said before, this matchup is coming about 10-15 years too late, with both stars now way past their primes. (By the way, didn't Jet Li say that
Fearless
was his last martial arts film?) Anyway, view the trailer
here
. The movie opens in theaters April 18, 2008.