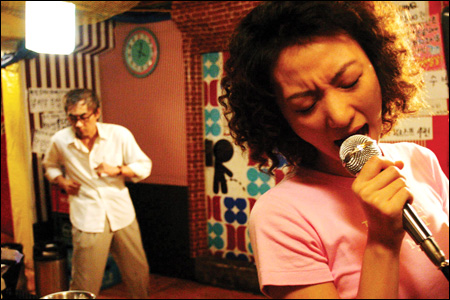 Here's a cool event happening this week for Korean film fans in Los Angeles... The Korean Film Council, in partnership with Korean Cinematheque, is hosting the first annual
Korean Film Festival in Los Angeles
(KOFFLA), from November 15 to 18. This year's theme is "It's Alive: Korean Film Genre Hybrids and Hollywood Remakes." The festival opens with the Los Angeles premiere of Kim Tai Sik's
Driving With My Wife's Lover
, and closes with the Han Jae Rim's gangster drama
A Show Must Go On
. Both films look great, along with the rest of the schedule, which features kickass movies like
A Bitterseet Life
,
Save the Green Planet
and
Barking Dogs Never Bite
.
In addition to all the films, the festival will feature a panel discussion on the viability of Korean films as potential material for Hollywood remakes:
"Korean Films Ready for Hollywood Remake and Co-Production"
. As you probably know, there's been a recent phenomenon of Hollywood remakes of quite a few Korean films announced over the last few years. In addition to
The Lake House
and
My Sassy Girl
, the rights to more than 10 Korean movies have been purchased by U.S. studios (much to the dismay of many dedicated Asian film fans). The panel will feature Zak Kadison, vice president of production at Fox Atomic and producer on the remake of
My Sassy Girl
; Jonathan Kim of Dain Pictures, which produced the hit Korean films
Silmido
and
To Catch a Virgin Ghost
; and Roy Lee of Vertigo Entertainment, responsible for recent remakes
The Ring
,
The Departed
and
The Lake House
. Should be a really interesting discussion. Given some of the fan reaction to remakes, I hope someone throws in a bit of controversy.
The Korean Film Festival in Los Angeles runs this week, November 15-18. For more information, including the full film schedule and ticket info, visit the website
here
. The site is rather poorly designed, but it'll have to do.