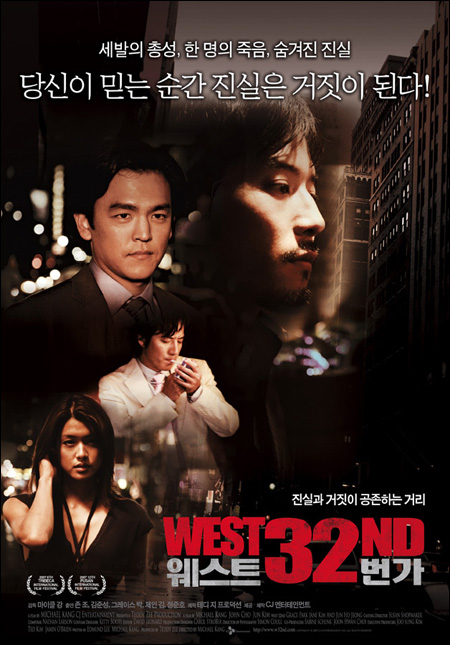 This is for all my readers in Korea (I know there are a few of you out there), or those of you who have friends and family there... my man Michael Kang's Korean American indie crime drama
West 32nd
is making its theatrical premiere in South Korea this week, on November 15. It will be opening in limited release through CGV Theaters on six screens in Seoul. Mike is asking folks to help get the word out. The film stars John Cho, Grace Park, Jane Kim, along with a real breakout performance from Jun Kim. Here's the official synopsis:
When John Kim, an ambitious young lawyer, takes on a pro bono case to exonerate a fourteen-year-old boy from a first degree murder charge, he finds a world he never knew existed in the underbelly of Manhattan - the Korean underworld. Infiltrating the knotty and complex realm of Korean organized crime to search for clues, he meets his match, Mike Juhn, a rising soldier in the syndicate. Recognizing John's determination and daring, Mike brings John into his confidence, furtively drawing him into his scheme to re-shuffle the Korean underworld. Though they become fast friends, they just as quickly end up trying to outfox each other as they discover they'll both do anything to win.

And here's a
note
from the director:

This has been an incredible labor of love for me. It was a dream that took years in the making come true. I had first started writing the script for "West 32nd" with my partner Edmund Lee back in 1998. To see the film in finished form is truly surreal. I am still amazed that we were able to make a film starring a predominately Korean American cast about a subculture of New York that most people don't even know exists. This film has been an uphill battle on many levels, but a battle well worth it. And the final product is something I am very proud of.

We are about to open the film in Korea and I am nervous to say the least. I am nervous because I don't know if people in Korea are aware of the film's existence. I am also nervous because I don't know how a mass Korean audience is going to react to the film. And I am mostly nervous because I know that the success or failure of this film in the theaters could not only effect my career but potentially Asian and Asian American co-productions in the future.

Regardless of all the stress, this is a great moment for me. Having the film play here is like getting to send a love letter back home.

My hope in making this film has always been to bridge the gap between Korean Cinema and Hollywood. From the reactions we have gotten from the film so far, I believe we succeeded in that goal. We had to turn hundreds of people away from our world premiere at the Tribeca Film Festival and we had an immensely positive response when we played the film at The Pusan International Film Festival. Critical and festival accolades at this point are meaningless though. The moment of truth is this theatrical run of the film where the movie will be seen by regular movie-going audiences. I hope you can help me now make sure as many people as possible come out and support it.

This film is a bold experiment on the part of CJ Entertainment (if you aren't familiar, CJ Entertainment is one of the largest studios in Korea -- CJ distributes most of the big Korean and Hollywood films in Korea); this is the first time they have fully financed and distributed an U.S. production. This is also the first time they have decided to take a chance on investing in a Korean American filmmaker. Right now, they are hoping that the experiment is a success, but it is truly uncharted territory for them.

This intimate personal story in the form of a crime drama is not the type of film CJ Entertainment is used to marketing. American-style independent filmmaking is new to them. Korean American stories are new to them. For those of you that don't know, "West 32nd" is a gritty New York crime story much in the vein of films like "Dog Day Afternoon" or "Serpico" from the 70's while also trying to capture the aesthetic slickness of contemporary Korean cinema -- films like "Oldboy" and "Bittersweet Life." It is not an easy film for anyone to market.

In the U.S., we may know who John Cho (Harold And Kumar) and Grace Park (Battlestar Galactica) are, but in Korea those names have very little marquee value. We luckily have a cameo from Jun Ho Jeong (My Hero, My Boss) and the film also stars a rising talent Jun Kim (The Lobbyist). But regardless, this is no "D-War" and we don't have the ad dollars behind us to make it a huge blockbuster release... Nor does it make any sense to try to be that. While "West 32nd" is a crime genre movie that appeals universally, at its heart the film is a personal story about Koreans in America and explores the relationships between 2nd, 1.5 and 1st generation Korean Americans.

CJ Entertainment is hoping that the film can generate word-of-mouth buzz. The only way for that to happen of course is if we can get people to come out and see it first. My biggest fear is that because I don't live in Seoul and have no way to directly reach out to folks, people may not aware of the film's release. We are starting our run on 15 screens in Korea (6 in Seoul). The internet is my only real hope for getting the word out to people. Please take a moment to pass this along to any friends and family you may have in Korea. It could make all the difference.

Thank you in advance.

FIGHTING!

-Mike Kang
dir West 32nd
I actually haven't seen the film yet, at least not the finished cut. But the rough edit Mike showed me a while back was pretty solid. Here's a review from the
Chosun Ilbo
:
A Fresh Look at Korean-American Issues
. And here's a good "Asian Pop" column from a few weeks back on Korean megastudio CJ Entertainment, which invested money in the movie. For more info on the movie, visit
West 32nd's
website
here
. And here's some info
in Korean
. November 15. Spread the word to your Korean connect.