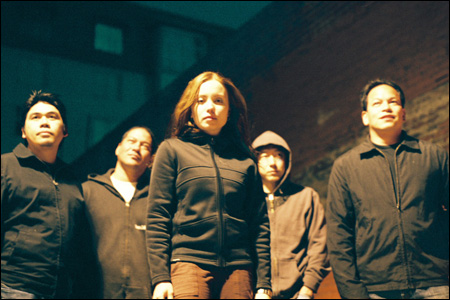 Mud
is a punk band (whose members happen to be Asian American) based in San Francisco, currently competing in radio station Live 105's
"Not So Silent Night" Battle of the Bands Contest
, vying for a chance to open for the December 7 concert with Jimmy Eat World, Paramour and Modest Mouse.
The band actually has a really interesting story. The members of Mud were originally veterans of the Guam music scene, later moving out to California ten years ago to enter San Francisco's music scene. Finally, their break seems to have arrived...
Mud has been selected as a Top 20 contestant, but in order for them to proceed to the next level for a Top 5 Battle of the Bands slot,
they need your help
. Check out their song
"Father Christmas"
(you'll need to sign up for a free imeem account).
If you dig the song, rate it and leave a comment (i.e. "this rocks my balls off!!!"). The contest ends this Sunday, November 25th. You can learn more about the band
here
, and check out Mud's MySpace profile
here
.