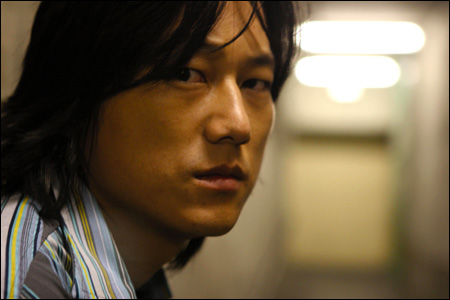 Check it out. After taking a spin on the festival circuit, Chris Chan Lee's indie noir drama
Undoing
, starring Sung Kang, Kelly Hu, and Russell Wong, gets a theatrical release from
Indican Pictures
. Here's the official synopsis:
After a mysterious year-long absence, SAM returns to Los Angeles determined to find redemption for his past. He soon becomes intertwined with his old mentor DON, a retired gangster and VERA, the lover he abandoned. As he tries to balance revenge with reconciliation he is drawn back into the shadowy world he left behind. A world of impossible desires, loneliness and isolation. Can Sam undo his mistakes before losing all that he came back to save?
The movie opens this Friday, November 30 at the
Kabuki Theater
in San Francisco. There will be Q&A sessions with director Chris Chan Lee and other members of cast and crew throughout the premiere weekend. After checking out the film on Friday night, head to the
Undoing
afterparty at O Izakaya Lounge in Hotel Kabuki. RSVP for the party
here
. Oh, here's a short review of the film from
SF Weekly
:
King Kang
.
Undoing
will also open next week, December 5-14, at the
Pioneer Theater
in New York. Sung Kang, and producers Karin Chien and Phil Lam will be present at selected screenings. To celebrate, they'll be throwing an Opening Night Release Party, Wednesday, December 5 at Sutra. For details, go
here
.
And in Boston, the movie opens Friday, December 7 at the
Brattle Theatre
for an exclusive 3-day run. Don't miss out! Sung and the producers are scheduled to do a Q&A with the audience after the December 7 screening. For more information about
Undoing
, visit the official website
here
, as well as the movie's
MySpace
and
Facebook
profiles.