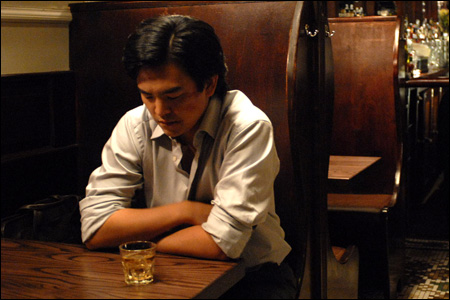 Just a reminder... tell all your friends, family, associates and connections in Korea that Michael Kang's Korean American gangster drama
West 32nd
is opening today, November 22, in CGV theaters around Korea. Here's an interview with the director from
The Korea Times
:
Director Explores Korean-American Identity
. The story provides some pretty interesting insights about New York's Koreatown that went into making the film. Here is also a letter from star John Cho, encouraging out there to check out
West 32nd
:
A Note from John Cho

When I came to Los Angeles to pursue acting 10 years ago, it felt like I was one of very few Korean American guys in town. In the years since, the situation has changed dramatically--I would never have guessed then that there would be so many prominent Korean American actors working today. And it's been so exciting to see that growth paralleled by the growth of Korean cinema in the global market.

I began to wonder what it would be like if resources and talent flowed both ways, from the United States to Korea and back? One of the first answers to that question is a Michael Kang movie I acted in called West 32nd. It's set in New York's Koreatown; it's often bi-lingual; it stars Korean American and Korean actors; and it was financed by CJ Entertainment, a Korean company that took a chance on this uniquely entertaining thriller.

On a personal note, the experience of making this film is among the most gratifying of my life. My character's discovery of his own culture mirrored my own experience with a largely Korean American cast and crew. It was a special time for me.

But the opportunity to give birth to a new category of film--the Korean/American co-production--is also special. In success, I hope this film is a catalyst for stories, talent, and resources to be shared between Koreans and Korean Americans. It would be a shame for us to drop the ball on this now.

West 32nd is opening theatrically in Korea on 20 screens on November 22. We ask that you please alert those you know in Korea. This is the way it happens--people emailing friends and family. Thank you very much for reading.

-John Cho
Actor West 32nd
See a more serious side of John Cho, the guy you previously only knew as Harold or the MILF guy. There's also
Battlestar Galactica's
Grace Park, on whom I have an immmense crush. I know you can dig it. To learn more about the film, go to the official site
here
. Also check out
West 32nd's
MySpace
and
Cyworld
profiles. Mike's
Xanga
site also has a lot of useful information. Sarah, make sure you get to the theater in Seoul, okay?