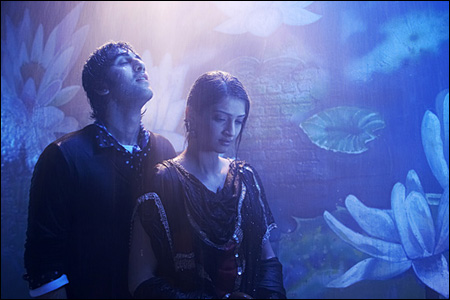 This is a really interesting NPR story on Hollywood's attempt to crack the movie market, where Bollywood rules:
Hollywood Looking for a Piece of Bollywood Action
. While Hollywood likes to think of itself as the world's biggest movie town, domestic product rules in India, with a movie industry that annually puts out more than twice as many movies as its U.S. competition. So it's not a surprise that Hollywood would want a piece of that market. But studios have found it's simply not enough to just dub U.S. blockbusters into Hindi. It just doesn't connect with Indian audiences.
And so... Sony recently becamse the first major Hollywood studio to produce a Hindi-language film,
Saawariya
("Beloved"), and put all its corporate muscle behind the movie. The studio scheduled
Saawariya
to open on the weekend of Diwali, a major movie-going holiday. But on the same weekend, one of India's biggest stars, Shahrukh Khan, premiereed a film called
Om Shanti Oh
. When it came down to it, this year's Diwali season just wasn't big enough for two major movies. It was hardly a tussle at the box office, and
Saawariya
tanked. It seems that Sony wasn't quite ready to give the people what they wanted. Back to the drawing board...