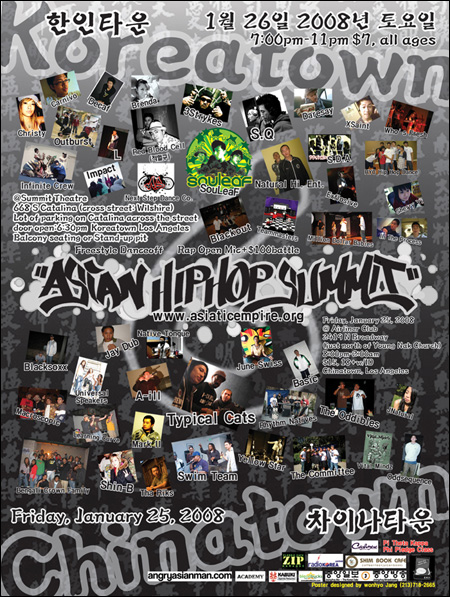 Awwww yeah. It's that time of year again. For all you hip hop fans in Los Angeles this weekend, it's the 6th Annual
Asian Hip Hop Summit
, a two-day event featuring some of the most exciting up-and-coming hip hop acts from the community. Friday and Saturday, January 25-26. Six years strong and growing, with festivals expanded to numerous cities nationwide. This one's the original.
The first night, Friday, January 25, happens at the Airliner Club in Chinatown, and features the likes of Typical Cats, Swim Team, The Oddibles, Oddsequence, Rhythm Natives, and a crapload of others.
Night two, Saturday, January 26, it's going down at the Summit Theatre in Koreatown, with performances from Souleaf, Red Blood Cell, Million $ Babies, 3 Strykes, and a crazy mess of dance crews. I've never even heard of half the acts in the lineup, but it sounds like it's going to be pretty awesome—you're bound to hear some true talent on the rise.
Good times. At the very least, go to see
Typical Cats
. I've been a fan of Denizen Kane, aka Dennis Kim, since his time with spoken word pioneers I Was Born with Two Tongues. Much respect. For information on all the performers, and a full schedule of the weekend's events, go
here
.