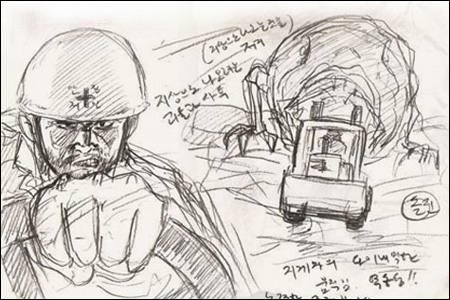 If you didn't get a chance to catch the brilliant Korean monster movie
The Host
, I suggest you pick it up or put it in your Netflix queue immediately. You rarely get a film that is all at once creepy, hilarious, suspenseful and politically subversive. Treat yourself.
Then, after you've seen it, you might be interested in this bit of news about the next installment:
The Host 2 Hungry for More Monsters!
.
It's being reported that
The Host 2
will be a prequel, and the producers are promising that it'll involve "multiple monsters" wreaking havoc on the Cheonggyecheon in Seoul. According to
SciFi Japan
:
"Because of its subject matter, THE HOST 2 is very likely to feature as much serious political and social subtext as the previous film. The restoration of Cheonggyecheon was an administration of Lee Myung-bak, current President-elect of Korea. Lee was the mayor of Seoul between 2002 and 2006, and the restoration of Cheonggyecheon was his election pledge. Before the restoration, Cheonggyecheon was notorious for its foul underground water and as a architectural safety hazard. Although the restoration has now made the creek one of the major tourist attractions of Seoul, it has drastically changed the everyday lives of the people living around Cheonggyecheon."
The script is written by well-known comic artist Kang Full. That's an early conceptual sketch by Kang, released by the studio. I believe that's a guy driving a forklift vs. some kind of monster. Awesome. Although the sequel will not be directed by the original's Bong Joon-ho, I'm still kind of excited about this. The movie is expected to be released in Korea in summer 2009.