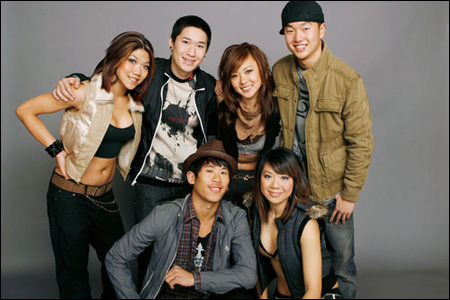 I rarely watch MTV anymore, but the other day I happened to catch the live casting audition for
Randy Jackson Presents America's Best Dance Crew
. I was glad I watched it, because I got to see one truly asskicking audition from
Kaba Modern
, an all-Asian American crew out of Southern California.
They were easily the strongest group representing the West Coast, and completely blew the judges away with their spot-on routine. I loved it. Check out their performance
here
, through the magic of YouTube. I'll definitely be rooting for them when the show premieres Thursday, February 7 on MTV. That's when you'll get a chance to vote.
I don't know him myself, but
Mike Song
(the guy with the green-ish jacket) is the brother of a friend of mine. I didn't know this, but according to his Mike's profile on the MTV site, he's apparently the guy who got destroyed in this Kollaboration freestyle dance battle
video clip
that made David Elsewhere famous—now one of the most watched video clips of all time. Served! That's Mike in the beginning, at age 14. Looks like he's moved on from that defeat to bigger and better things.
UPDATE: I should add that
Fysh N Chicks
and
Jabbawockeez
also have Asian members in their crews. But I'll be honest, I'm mainly rooting for Kaba Modern.