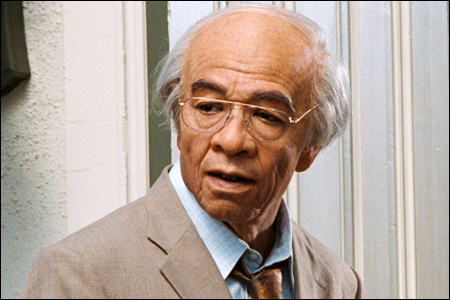 Nominations for the 80th annual Academy Awards were announced this morning. View the complete list of nominees
here
. Not much to get excited about. In fact, one very big thing to get
angry
about. So, no work by Asian Americans nominated. No big deal, that happens almost every year. Left out again. But to add insult to injury, we get
Norbit
scoring a nomination. For
Best Makeup
!
If you recall,
Norbit
was last year's big stinkfest starring Eddie Murphy in various roles, most notably as an enormous Black woman and a stereotypical old Chinese man. Yes, Eddie was rockin' the Yellowface. For laughs, you know. It's maddening to consider that this kind of
racist
caricature is being honored as one of the year's best achievements in makeup, by Hollywood's most prestigious organization. It's a load of crap.
As it happens, this week
Norbit
was also nominated for multiple Razzies, the annual awards "honoring" the worst films of the year:
Lohan, Murphy Lead Razzie Worst-Of Noms
.
Eight nominations—five for Murphy alone—including worst actor in the title role, supporting actress as Norbit's wife, supporting actor (as the "Asian" man) and worst screen couple for Norbit opposite either of Murphy's other characters. Murphy also shared a screenplay nomination for the damn.
All this equals one of the worst movies of the year... and yet it scores an Oscar nomination? I don't think I'd be so mad if the nod was for, I don't know, sound editing or something. But makeup? Kick me while I down. Argh.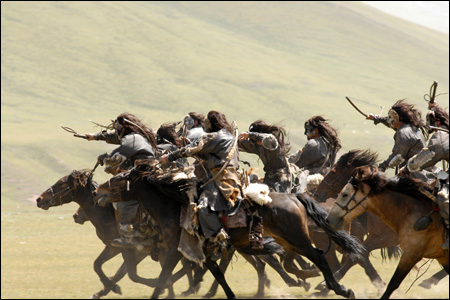 But anyway. If you're keeping score, the only marginally Asian nomination went to
Mongol
, Kazakhstan's entry for Best Foreign Language Film. Interesting.
You may remember this film from several years back, when it first announced that very very white actor Channing Tatum would star as Genghis Khan... which of course, was ridiculous. Somewhere along the way, Tatum was dropped from the project, and
Tadanobu Asano
stepped in as good ol' Genghis. I just took a look at the
trailer
, and I gotta admit, it looks kind of cool. The movie is set to open here in the States on June 6.
This is not to be confused with Kazakhstan's other Mongol warrior picture, last year's
Nomad
, which was sort of meant to be counterprogramming to the not-so-flattering image
Borat
painted of his home country. I think that movie was in theaters for a minute or two, then landed on
DVD
shelves with some very
300
-esque artwork.