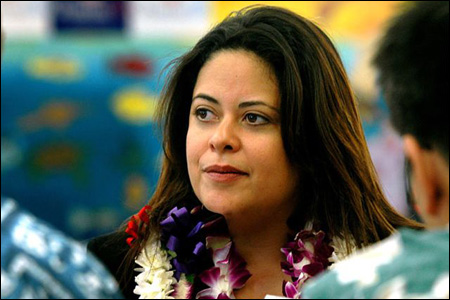 He's got her vote for sure. The
New York Times
has a few questions for Maya Soetoro-Ng, half-sister of Democratic presidential candidate Barack Obama:
All in the Family
. She and Obama share the same mother, but her father is from Indonesia. Yes, my friends. She is one of us.
Survivor
winner Yul Kwon might be millionaire, but he won't be getting into the yogurt business anytime soon:
'Survivor' champ may not make it in S.F.
Yul and a couple of friends apparently tried to open a Red Mango store, but the neighborhood ain't down with the chains. Well, there's always Congress.
It looks like Norm Chow, former offensive coordinator for USC, is returning to Los Angeles to join the coaching staff of crosstown rival UCLA:
Chow joins Neuheisel's staff at UCLA as offensive coordinator
. Interestingly enough, he had previously been under consideration for the head coaching position.
Meet Peter Mui, creator of the YellowMan clothing brand:
Wearing pride on sleeve
. The high-end brand's Asian-inspired designs are sort of "wearable tattoos," form-fitting shirts filled with all sorts of symbols of ethnic pride, by real tattoo artists. Sounds like cool, wearable art, but damn, they're expensive.
Here's a profile from the
Orange County Register
on Garden Grove firefighter Son Nguyen, a recent contestant on NBC's new version of
American Gladiators
:
O.C.'s American Gladiator competes
. At 36-years-old, he was one of the oldest contenders on the show, amongst much younger challengers
The
Los Angeles Times
has a story on Walnut, CA Councilman Joaquin Lim, who teaches about how local government should work to visiting Chinese officials at Cal Poly Pomona:
City Hall is a class struggle
. It seems that the city of Dalian has a few things to learn from the way things are done in the city of Walnut.