Inmate Inhak Cho was caught trying to escape an Illinois jail using self-made metal chisels.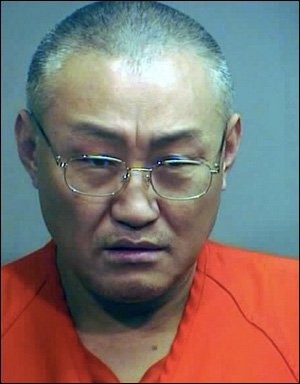 Asians Behaving Badly... prison break edition! In Illinois, McHenry County jail authorities caught an inmate, 46-year-old Inhak Cho, trying to chip his way through the 18-inch concrete wall in his cell with a pair of self-made metal chisels.
Cops: Algonguin man tried to chisel way out of McHenry County jail
.
Not quite Andy Dufresne, Cho had been working on his little escape plan for one or two weeks, and had managed to make a hole about an inch deep and 18 inches wide, while concealing his work with toothpaste.
Authorities discovered the hole thanks to a tip from a confidential informant.
McHenry County jail authorities foiled a "Shawshank Redemption"-style escape attempt Tuesday by an inmate trying to chip his way through an 18-inch concrete block with a pair of long metal chisels he had fashioned.

Except instead of hiding his efforts behind a poster of a modern-day Rita Hayworth or Raquel Welch, authorities said Inhak Cho was covering up his handiwork with toothpaste.

The 46-year-old Algonquin man's escape bid had not gotten far by the time authorities discovered it Tuesday afternoon, thanks to a tip by a confidential informant, McHenry County Undersheriff Gene Lowery said Wednesday morning.

Cho has been serving a six-year sentence for aggravated domestic battery and firearms offenses, and is also awaiting trial on kidnapping charges, which could get him thirty years.
This stunt just earned him a new set of felony charges, including possession of a weapon in a penal institution and criminal damage of state supported property. That's another fifteen years!
More than enough time to devise a new escape plan.