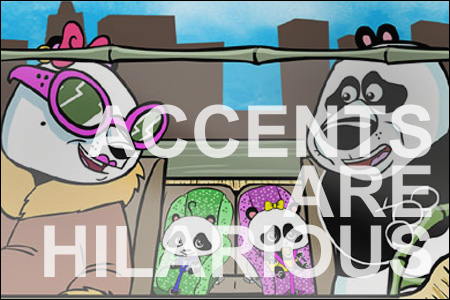 So by now, you've probably heard about those two
racist commercials
for Salesgenie.com that aired during the Super Bowl. You know, the ones with the Chinese Pandas and the South Asian dude named Ramesh. Judging from the amount of mail I got about them, you're like me, and when you saw them during the broadcast, you yelled a big fat
WTF
at the TV screen.
As we pointed out before, the messed up part is that the company was apparently trying to make these commercials the worst Super Bowl ads possible:
Salesgenie.com Ready to Reclaim Crown as Super Bowl's 'Worst Ad' Champion
. No expensive ad firms hired here. The commercials were conceptualized and written personally by Vin Gupta, founder and chairman of InfoUSA, parent of Salesgenie.com. Yes, because even the worst Super Bowl ad gets some attention.
Yesterday, Gupta said he was sorry for the ads ("We never thought anyone would be offended"), and promised to stop running the one with the Chinese pandas:
An Ad With Talking Pandas, Maybe, but Not With Chinese Accents
. Why does this apology seem less than genuine? He already admitted he wanted to make the worst ads possible. It's not a stretch to think they purposely decided to offend a few million Asians to get people talking. And it worked.
Look at us. We're mad, we're talking about the damn ad, and now they've got another story about their company in the
New York Times
. Hell, they didn't even have to hire an ad agency. With the announcement that they're pulling these ads, there will now be legions of folks who flock online to watch the commercial and see what the fuss is about. All this, and now you've got a lot of people suddenly aware of a no-name company nobody would've given a crap about in the first place. Nobody's sorry about anything here.