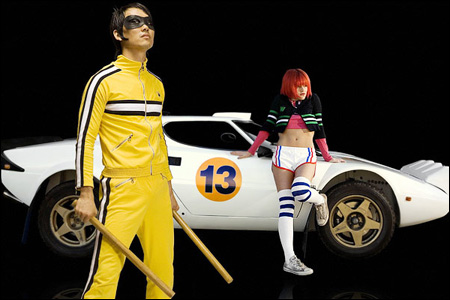 What in the world? I do not know what to make of this... Actor
Eddie Shin
is in a new kitschy UK action/comedy television series,
Phoo Action
, alongside Jaime Winstone:
Jaime is kung-fu fighting!
. Based on the photo above, the trailer
here
and the description below, it sounds pretty crazy... and man, I'm curious as hell to see it:
Car chases, kung-fu and comedy come together in the wonderfully warped world of Phoo Action – an offbeat 60-minute drama special for BBC Three.

Based on characters created by Jamie Hewlett (Gorillaz, Tank Girl) for The Face comic strip Get The Freebies, Phoo Action is set in 2012, when London is in the grip of mutant criminals, The Freebies.

Only Terry Phoo, a hapless Buddhist kung-fu cop, and unruly teenage heroine Whitey Action, the daughter of Police Chief Benjamin Benson, can save the nation.

Together they form an unlikely but effective crime-fighting team who bring together chaos and comedy, mischief and mayhem, to become heroes for a future generation in the face of Britain's super-vile, super-famous mutated criminals.

Jaime Winstone (Kidulthood) stars as teenage anarchist Whitey Action, Eddie Shin (ER) as martial arts sweetheart Terry Phoo and Rocky legend Carl Weathers as Benjamin Benson, Chief of Police and long-suffering father to the rebellious Whitey.
The show is based on characters created by Jamie Hewlett, one of the guys behind the cartoon band Gorillaz and
Tank Girl
. The show premiered last week, and was
picked up
for a full six-episode series by BBC3, despite disappointing ratings for the debut episode. The pilot episode is up on the
BBC Three
website, but is only currently available to UK viewers. I am currently in the process of tracking it down to view it for myself... I like Eddie, and I hope this isn't a show about him actin' the fool. Or phoo.