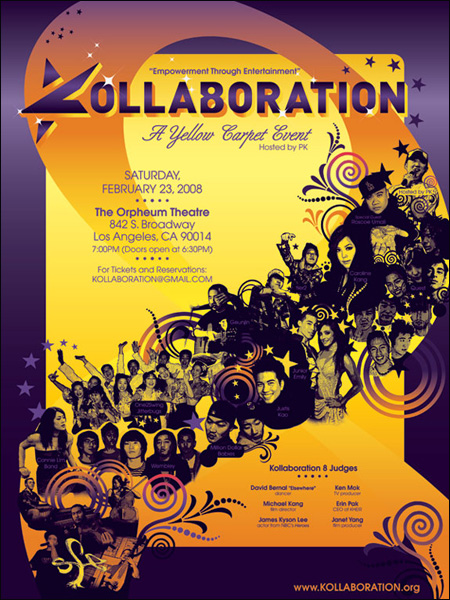 Oh hell yes.
Kollaboration
, the world-famous Asian Pacific American talent show, returns for its eighth year in Los Angeles. It's all going down this Saturday, February 23 at the Orpheum Theatre. The annual event is a community-based showcase for emerging, up-and-coming talent, which continues to grow bigger and better every year. There's going to be singing, dancing, joking, laughing. Good times all around.
Like the flyer says, guest judges include David Bernal "Elsewhere," world famous breakdancer; Michael Kang, director of
West 32nd
and
The Motel
; James Kyson Lee of
Heroes
; Ken Mok, TV Producer; Erin Pak, CEO of KHEIR; and Janet Yang, Film Producer. And a special performance by Roscoe Umali! According to the
website
, tickets are actually all sold out, but you've actually got the chance to win two VIP tickets
here
. Good luck. Mad props to PK.