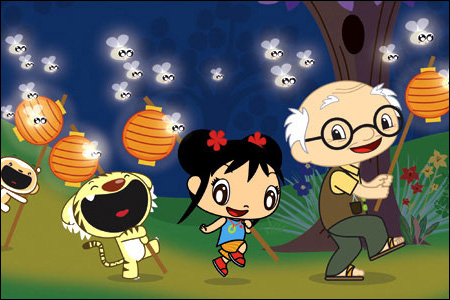 For weeks, I've been hearing about a new Nickelodeon show,
Ni Hao, Kai-lan
, intended to introduce preschoolers to Chinese culture and language. The animated half-hour series is designed to teach 2-5 year olds Mandarin words and phrases, kind of like a Chinese
Dora the Explorer
. The show was created by Karen Chau, who apparently drew on her own experiences growing up in a Chinese American family. Here's an excerpt from the press release:
Ni Hao, Kai-lan stars Kai-lan Chow, a playful, adventurous bi-lingual preschooler with a big heart, who speaks both English and Mandarin. Kai-lan's world is infused with Chinese culture, from the dumplings she eats and the lanterns that adorn her house to the huge Chinese New Year celebration she has with her family and friends. The series centers on Kai-lan and her relationships with her grandfather Yeye and her animal friends. Yeye plays a major role in her life as he gently and playfully guides her to her own discoveries. Kai-lan is a natural leader who is thoughtful and caring and has a gift for helping her friends when they really need her. Her best friends are Rintoo, a rambunctious five-year-old tiger who loves to play; Tolee, a five-year-old koala who always puts his friends first; Hoho, a three-year-old monkey full of boundless energy; and Lulu, a happy six-year-old pink rhino.

The series focuses on issues common to preschoolers such as taking turns, disappointment and jealousy, and supports an emotional intelligence curriculum highlighting cause and effect thinking in the social/emotional world. Ni Hao, Kai-lan provides simple coping strategies, set to song, that teach valuable lessons. Kai-lan strives to understand how things are linked together and she always wants to find out the reason why. Every episode follows the adventures of Kai–lan and her friends as they learn to identify their emotions and stop to consider the feelings of others. Kai-Lan leads them as they tackle such issues as what caused Rintoo to get mad, or how patience and practice help Tolee get better at rhyming.

Learn a little more about the show in this
behind-the-scenes video
. Goodness, it's insanely cute. The show premieres tomorrow, Thursday, February 7, the first day of the Chinese New Year, on Nick Jr.
I think this show is a great idea. We're living in a day and age where all you hear about are the evil Chinese government, the contaminated Chinese food, the toxic Chinese toys... Basically, as a society, we've built a rhetoric about being wary of all things Chinese. So introducing young American children to Chinese culture and language through this show is an interesting way to cut through that mystique. Granted, it's Nick Jr. There are going to be dancing koalas and tigers and stuff. But the kids are gonna dig it... and learn some Chinese along the way.