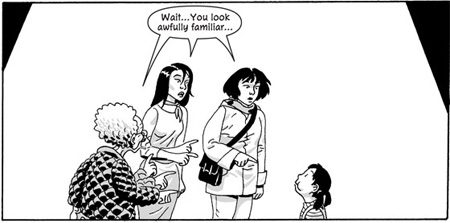 Boing Boing recently blogged about
Good as Lily
, a graphic novel by Derek Kirk Kim and Jesse Hamm:
Good As Lily -- ass-kicking girl-positive graphic novel for young readers
It tells the story of Grace Kwon, a young Korean-American girl who, on her 18th birthday, finds herself in the company of her six-year-old self, her 29-year-old self and her 70-year-old self, three women who become a part of her life as she finishes out her last semester of high school before going off to her freshman year at Stanford.
Okay, I know it's intended for young readers, but I've been wanting to check this book out for a while, as I am a huge fan of Derek Kirk Kim's award-winning graphic novel
Same Difference & Other Stories
. Great book.
NPR's
The Bryant Park Project
recently had a great feature on one of my favorite books of all time, Gene Luen Yang's
American Born Chinese
. The link includes an audio slideshow narrated by Gene Luen Yang, where he explains some of the ideas that went into his characters and the story:
Growing Up Chinese American, Graphically
. Very interesting stuff.
Another book I really want to pick up is Kaz Kibuishi's
Amulet
, s new all-ages fantasy adventure series. The first book,
The Stonekeeper
, was published last month. Here's an excerpt from
Amulet
published in
New York Magazine
:
Exclusive Comics Excerpt: Amulet
Finally, here's an interview over at AsianAmericanFilm.com with Ann Marie Fleming, about the graphic novel adaptation of her award-winning animated documentary,
The Magical Life of Long Tack Sam
. It tells the story of Fleming's great-grandfather, Long Tack Sam, China's greatest musician:
Ann Marie Fleming on the "Long Tack Sam" graphic novel