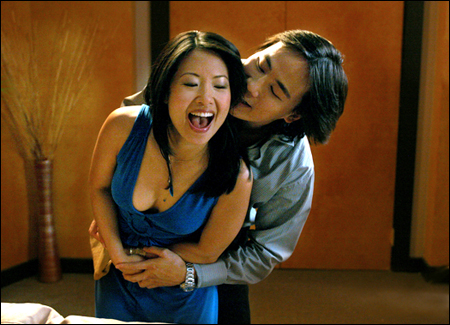 For those of you in the Bay Area, my buddy Gene Rhee's film
The Trouble With Romance
will be screening at Berkeley's Pacific Film Archive tomorrow night, February 4, as part of the Asian Pacific American Student Development (APASD) office's annual film screening, co-presented by the Center for Asian American Media. It's an indie romantic comedy revolving around four couples (and their dysfunctions) spending one crazy evening at the same hotel. The movie stars Roger Fan, Emily Liu, Sheetal Sheth, Steve from
Sex and the City
, Mayor Gavin Newsom's girlfriend, and more. It's a fun little flick (my favorite story is easily the one with Roger and Emily). Here are some details on the screening:
"The Trouble With Romance"
February 4th
Berkeley Art Museum and Pacific Film Archive
2625 Durant Avenue
Berkeley, CA 94720-2250

7:00 Doors open
7:10 Opening remarks
7:15 Short Film called "Fishbowl" will screen
7:55 Feature Screening of "The Trouble with Romance"
9:30 Q&A session

Director Gene Rhee will be in attendance, as well as actress Jennifer Siebel (Gavin's gal). For more info about the event, go
here
. For more information about
The Trouble with Romance
, go
here
. Also screening that evening before
Trouble
is the late Kayo Hatta's short film from a few years back,
Fishbowl
. It's this wonderful coming-of-age story set in 1970s Hawaii. I highly recommend checking it out. So there, you have two good reasons to head out to Berkeley on Monday night. Be there!