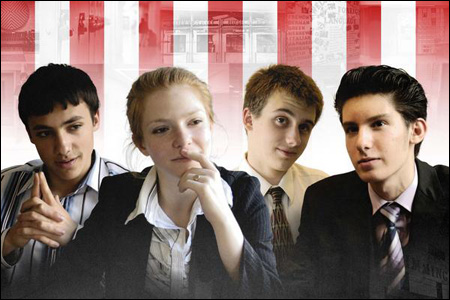 Here's an interview with filmmaker Caroline Suh, whose documentary
FrontRunners
is currently screening at
South by Southwest
:
SXSW '08 INTERVIEW | "FrontRunners" Director Caroline Suh
. The film follows four students at New York's elite Stuyvesant High School, all running for coveted office of Student Body President, and each of their experiences on the campaign trail. There's more drama in it than you might think.
It's interesting to note that Stuyvesant has a huge majority Asian American student population. Thus, one of the considerations for these candidates is whether or not to run with an Asian on your ticket. Sounds like a pretty interesting film. Perhaps a nonfiction version of
Election
? I'd love to see that. Learn more about
FrontRunners
at the official website
here
, and the film's MySpace profile
here
.