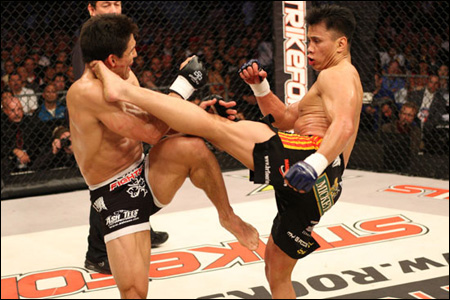 A lot of you out there are apparently MMA fans, because a got a truckload of emails from folks informing me that Cung Le is the new king of asskicking. On Saturday night, fighter Cung Le defeated Frank Shamrock and took the Strikeforce middleweight championship title, cementing himself as one of the fiercest mixed martial arts fighters in the world:
Cung Le takes Shamrock's title
.
Le won the fight by TKO, after his kicks broke Sharock's right arm and the physician in attendance stopped the fight at the end of the third round—at Sharock's request. Basically, Cung Le kicked his ass. It was apparently a pretty awesome fight, televised on Showtime and drawing a crowd of 16,326 at HP Pavilion. Both were considered San Jose's hometown heroes going into the fight... but Cung Le has come out on top.