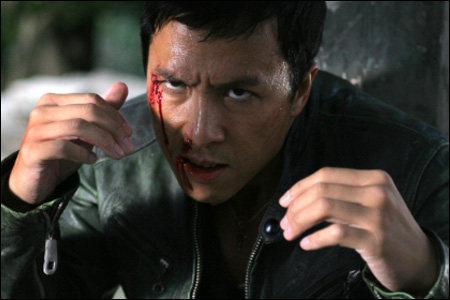 Rotten Tomatoes has a pretty decent interview with Hong Kong action star Donnie Yen, whose movie
Flash Point
recently hit U.S. theaters in limited release:
Ten Questions with Flash Point Star Donnie Yen
. I haven't seen it, but it supposed to have some rather brilliant action choregraphy—one of Donnie's trademarks. This one, however, apparently has more of a MMA flavor.
If you're not familiar with Donnie Yen's work, check out his fight scenes with Jet Li in
Once Upon a Time in China II
and
Hero
. Also check out his work more recently in the very badass
S.P.L.
(most unfortunately re-titled
Kill Zone
in the US). I thought his character in
Flash Point
, Seargeant Ma, is the same dude he played in
S.P.L.
, but it turns it's a totally different character. Anyway, the
U.S. version
of
Flash Point
hits DVD on April 22.