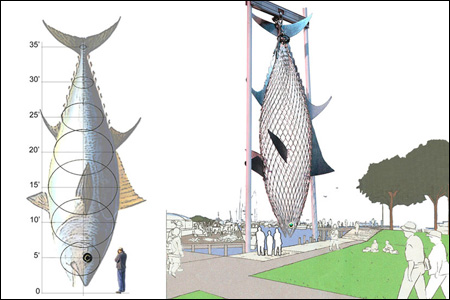 Awesome. Artist Carl Cheng has been commissioned to create a gigantic wire-mesh sculpture of a blue fin tuna in San Pedro, CA:
SP sculpture to capture fishing life at waterfront
. From the
Los Angeles Times blog
:
San Pedro's fish tale takes artistic turn

Inglewood has the giant donut. Cabazon can brag about its towering dinosaurs. So, why not a 40-foot fish for San Pedro? Late next year, a wire-mesh sculpture of a blue fin tuna dangling upside down from 50-foot poles will greet visitors to the Port of Los Angeles, according to the Daily Breeze.

The port commissioned the $150,000 artwork, titled "Ghost Fish," by Santa Monica artist Carl Cheng. The sculpture was inspired by the artist's childhood visits to the harbor, which was once home to giant tuna canneries. He plans to fill the fish head with castings of fishing related items, including diving helmets and good luck charms, gathered from residents.

"The fishing nets were used to draw the fish up," Cheng said. "In this case, it's as if I'm picking up the (local industry's) history.
The $150,000 "Ghost Fish," dangling upside down from 50-foot poles, will greet visitors to the Port of Los Angeles. I don't know why, but weird crazy giant sculptures fascinate me. Like I said, awesome. (Thanks, Jay.)