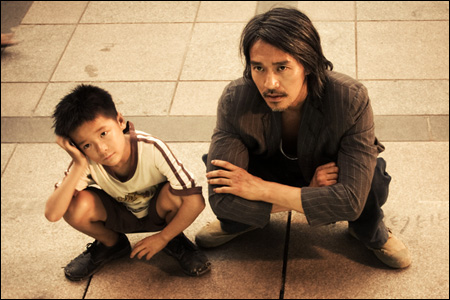 Stephen Chow's wacky sci-fi comedy
CJ7
opens in select theaters in New York, Los Angeles and San Francisco yesterday. I've already said a
few things
about this movie, so I won't go into it too much, but if you're a fan Stephen Chow's unique brand of humor, you'll probably want to check it out. It's a really weird movie, and the oddities aren't perfect, but overall pretty enjoyable. The kids will dig it. Here's a brief interview clip thing with Xu Jiao and Stephen Chow, over at
Yahoo! Movies
.
Opening in wide release this weekend...
Brenda Song
is in the cast of Walt Disney's
College Road Trip
, starring Martin Lawrence and Raven Symone. When I think of a "College Road Trip," the last thing I think of is a G-rated Disney comedy, but okay. Whatever. I believe Brenda plays Nancy, one of Raven's friends. Fans of the Disney Channel's
The Suite Life of Zack and Cody
will recognize her as London Tipton, the spoiled rich hotel heiress. Sort of like a Paris Hilton (Paris, London—get it?), only with a zillion times more personality. I will admit to having watched this show on several occasions.
Also opening in select theaters...
Girls Rock!
, a documentary on the Rock 'n' Roll Camp for Girls in Portland, Oregon, where young women receive music and life lessons of empowerment from a dedicated group of feminist indie rockers. One of the girls profiled in the film is an extroverted Asian American teen named Laura, described as "the one girl in her teens who feels confident and has defied the statistical trend toward plummeting self-esteem... who eventually reveals that her self-image isn't what it seems." Sounds kind of interesting. Bring your daughters.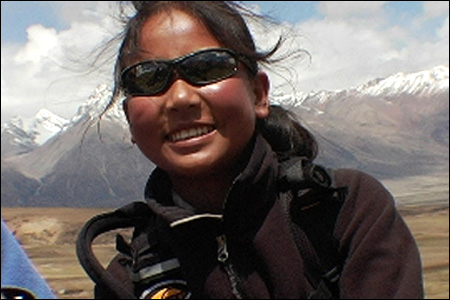 And finally, at the IFC Center in New York,
Blindsight
, a documentary following six teenage students from Tibet's only school for the blind as they set out to climb the 23,000 foot Lhakpa Ri on the north side of Mount Everest. That's right—they're blind. It sounds pretty remarkable. View the trailer
here
. Crazy!