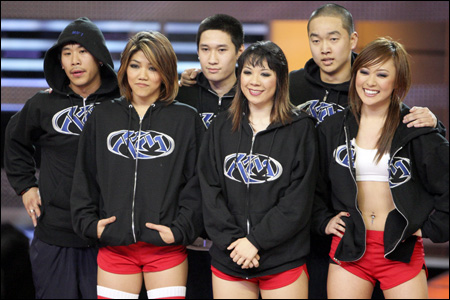 Dance fans, remember to tune into MTV's
America's Best Dance Crew
tonight... Kaba Modern and JabbaWockeeZ have danced their way into the final three. Last week, Kaba was voted into the bottom two, where they had to battle to stay in the competition. They won, but not without a little drama. Yuri slipped up at one point during their Broadway challenge routine, making a small mistake, and one of the judges called her out on it. It actually drove Yuri to tears, which kind of broke my heart to see.
But can you blame Kaba Modern for not being totally on point? Their music apparently got changed last minute last week, so they had to make adjustments to their choreography the night before. It's gonna be a fight tonight:
Kaba Modern in Final 3 fight for 'Best Dance Crew'
. I've heard a few not-so-encouraging spoilers about tonight's results, which were taped earlier this week. But we shall see.