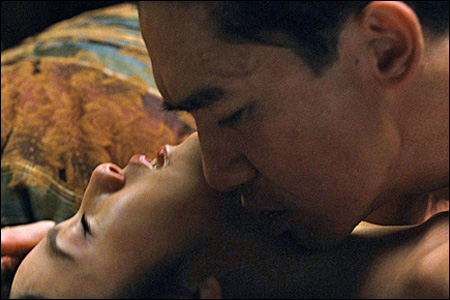 Actress Tang Wei has apparently been banned in the Chinese media because of the sexual nature of her performance in Ang Lee's World War II espionage drama
Lust, Caution
:
"Lust, Caution" actress banned in China
.
If you've seen the film, you know that there is indeed sex, and lots of it, in the movie. Tang and Tony Leung really go at it, getting downright athletic. But it's also an intense, brilliant film, that deserved a lot more critical recognition than it received last fall—perhaps overshadowed by all the attention garnered by the film's unabashed NC-17 rating. I loved it, and Tang is absolutely amazing. But not surprisingly, the sex was deemed too much for China, where seven minutes of graphic sex scenes were cut from the film's theatrical release. This, of course, only had the effect of ensuring that
everybody
would want to see the uncensored version of the movie.
An internal memo from China's State Administration of Radio Film and Television was reportedly sent to all television stations and print media in China last week, stating that a new Ponds skin care television commercial starring Tang was to cease broadcast immediately. All print ads and feature content using the actress were also to be pulled:
In a statement dated March 7, titled "Reassertion of Censorship Guidelines," SARFT said it had informed all major film and broadcast entities and governing bodies that it was renewing prohibitions on "lewd and pornographic content" and content that "show promiscuous acts, rape, prostitution, sexual intercourse, sexual perversity, masturbation and male/female sexual organs and other private parts." However, the public notice, posted on SARFT's Web site, did not specifically mention "Lust" or Tang.
In addition, all awards shows and events in China were advised to exclude Tang and the producers of
Lust, Caution
from their guest lists, while discussions about the film and Tang on online forums were deleted. Wow, they
really
want you to forget about Tang Wei this movie.
Here's my question. If
Lust, Caution
was so objectionable, why did the government allow it to be released theatrically in China in the first place? And should the graphic scenes in question even be an issue, since no one in China was supposed to have seen them anyway? And what does a skin care commercial have anything to do with
Lust, Caution
? As far as I'm aware, there wasn't any sex in the ad, right? It's as though the very reminder of Tang Wei's sexuality is too much for the Chinese government.
But most importantly, I have to ask, why are they going to such great lengths to eliminate Tang from media existence? Why is she being singled out? It definitely took two people to act out that sex on screen. Shouldn't Tony Leung be also equally blacklisted from Chinese media? And Ang Lee? I'm not in favor of this in any way. I'm just saying, it's unfair to do this to Tang without similarly scrutinizing everyone else involved in
Lust, Caution
. Because dammit, I saw Tony Leung's balls. I believe that falls under "male/female sexual organs and other private parts." The banning of Tang Wei from Chinese media reveals rather ridiculous double standard. Thankfully, Ang Lee is speaking out on her behalf:
Ang Lee protests over banning of Lust, Caution, filmstar over sex scenes
. If the ban holds, I hope Tang learns English quickly—maybe she can make it in Hollywood.