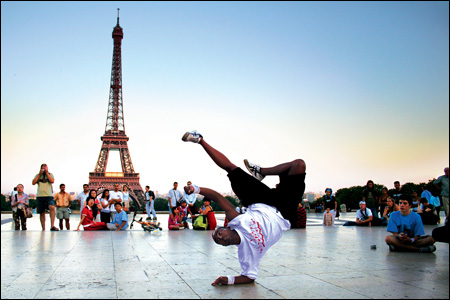 All right, everyone go watch Benson Lee's
Planet B-Boy
, opening in theaters starting today from Elephant Eye Films. It's a fantastic documentary set in the international world of B-boying, following crews from all over the world competing and colliding at the "Battle of the Year," where the winner will walk away with title of World Champion. It's an engaging, hugely entertaining documentary with a lot of heart, and deserves to be seen by as many people as possible. I can't recommend it enough.
The film focuses on several b-boy crews from all over, including the United States, France, Japan and South Korea, all with their unique personal and cultural perspectives, but unified in their love of breaking. It's a great portrait of young people who are passionate about their art—it truly is an art—struggling to follow their dreams while being largely misunderstood their families and society at large. And you get to see a display of some truly awesome dancing—literally, the best b-boys in the world. It's a hell of a crowd-pleaser.
Planet B-Boy
opens today at the Landmark Sunshine in New York and the Landmark Nuart in Los Angeles, with more cities in the following weeks. Here's are upcoming dates on the schedule:
SCREENING DATES & LOCATIONS

March 21st
NYC - Landmark Sunshine
LA - Landmark Nuart

March 28th
SF - Landmark Lumiere
Berkeley - Landmark Shattuck
San Diego - Landmark Ken
DC - Landmark E Street

April 4th
Boston - Landmark Kendall Square
Austin - Landmark Dobie
Chicago - Landmark Century Centre
And more theaters to follow... If you're in any of these cities,
see this movie
. Make your plans, grab your friends, and get your ass out to the theater. You're going to have a fantastic time. That's all I can say. Check out this interview with director Benson Lee:
indieWIRE INTERVIEW | "Planet B-Boy" Director Benson Lee
. To learn more about
Planet B-Boy
, and to watch the trailer, visit the website
here
. And the MySpace page
here
.
UPDATE: If you enjoy
Planet B-Boy
, and really dig the movie's music, you can purchase and download the theme from
Planet B-boy
,
"Live From Planet B-Boy"
by Woody Pak & MC IAMISEE,
right here
.