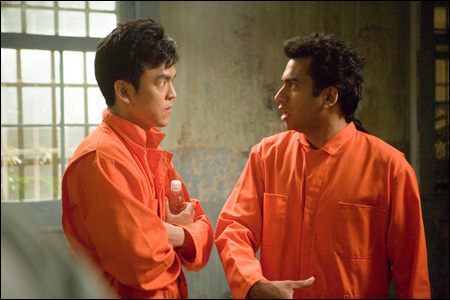 Harold and Kumar
fans, are you getting hyped? In anticipation of the special screening of
Harold and Kumar Escape From Guantanamo Bay
next week at
SFIAAFF
, the
San Francisco Bay Guardian
has an interview with writer/directors Jon Hurwitz and Hayden Schlossberg, and star John Cho. Please excuse the vulgar headline:
SFIAAFF: Multiculti cock-meat sandwich
.
The article touches upon one aspect I've always admired about
Harold and Kumar
. While there's a ridiculously abundance of fart, weed and nudity jokes that will delight and offend—and if that's what you're looking for, you're certainly going to get it—the film somehow also manages to be surprisingly revolutionary and political at the same time, in a way a lot of Asian American cinema often fails to achieve. It's mad subversive.
As the movie's title indicates, our heroes Harold and Kumar do at one point find themselves locked up in Guantanamo Bay, our government's detention camp of choice for terror suspects. Here's an interesting article on what Guantanamo has come to mean in modern worldwide popular culture, no longer just as a naval station or even just a detention center, but as an idea—it's become shorthand for imprisonment and isolation. As one writer calls it, Guantanamo is the "new Alcatraz... the gulag of our times":
Guantanamo, Evil and Zany in Pop Culture
.
Anyway, next week's SFIAAFF screening is completely sold out, but there's always the rush line. The movie is also screening at the
South by Southwest Music and Media Conference
in Austin.