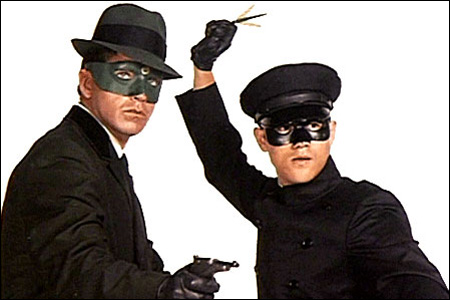 You might recall when it was announced last year that Seth Rogen would be writing and producing (and possibly starring in)
The Green Hornet
feature film for Columbia Pictures. That's funny, and kind of weird, but hey, why the hell not? What got me really excited though, was that Rogen said
his first pick
to play Kato was none other than
Kung Fu Hustle
star/director Stephen Chow. No deals had been made or anything. He just thought it would be really cool. Seriously, how frickin' awesome would that be?
Well, Stephen Chow has recently been making the rounds and doing a lot of U.S. press for his new sci-fi comedy
CJ7
, which opens in New York and Los Angeles on March 7. When asked what his interest might be taking the role of Kato, Chow seemed all for it, and seemed genuinely pleased that Rogen was consdering him... though he hasn't officially been approached. Somebody, give Seth Rogen his contact info:
Seth Rogen, Call Stephen Chow!
Since the hiring of Seth Rogen seems to indicate that the project is leaning in a comic direction, I think Stephen Chow is the perfect choice to play Kato. How about a story where the Green Hornet doesn't know a damn thing about crime fighting... and Kato is the true badass? I wouldn't mind seeing that.