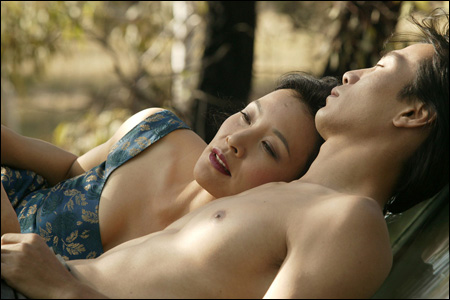 Tonight, the
26th San Francisco International Asian American Film Festival
winds down its San Francisco leg with the Closing Night presentation of
The Home Song Stories
, from Chinese Australian director Tony Ayres. I don't know much about this film, except that it stars Joan Chen, and
I love Joan Chen
. The film was Australia's Oscar submission for Best Foreign Language Film, and is a story about "the lives of a young family valiantly trying to hold itself together despite the complicated world around it." Here's the plot synopsis from the festival catalog:
The story begins in 1964, when the stunning nightclub singer Rose (Chen) arrives in the Australian suburbs with her two children Tom and May. Wed quickly to a shipman ("Uncle Bill" to the children), whom she met while performing in Hong Kong, she abruptly leaves him ten days later, and sets the family off on a journey that will change their lives forever. As the three move from "uncle" to "uncle," none are as affected as deeply as the eleven-year-old Tom, from whose perspective their story is told.

When Rose settles in with the much-younger Joe, a chef at the local Chinese restaurant, the four create a family, or their most honest attempt at one. Amidst moments of genuine connection--going to the beach, watching The Partridge Family--is a dangerous tension, one driven by Rose's volatile, erratic behavior, a remnant from her tragic past. When Joe notices May's growing beauty, their carefully balanced lives are upended.
I'm looking forward to seeing this film. For those of you saddened by the closing of the festival, do not fret. SFIAAFF continues on though the weekend at the PFA in Berkeley and Camera Cinemas in San Jose. Lots of great stuff there for you audiences in the South Bay, like
Amal
,
Ping Pong
,
Blood Brothers
, and
Pretty to Think So
. For more information about SFIAAFF, go
here
.