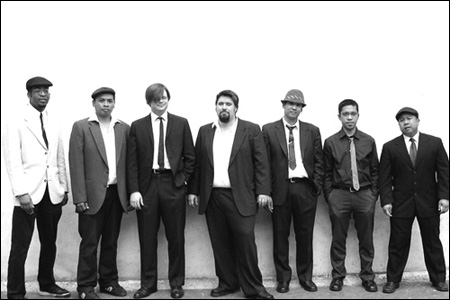 Lately I've been seriously diggin' the cool sounds of
El Nova Hustle
, the third album from
P.I.C.
Hailing from the Lower East Side, the band is a unique genre-mashing hip hop jazz ensemble with a really fun, inventive sound. They've sort of got this party hip hop vibe, with sometimes silly lyrics ("I'll fight for your honor like
Karate Kid 2
" always sticks out for me), while riding a distinct blend of Motown, swing, jazz and soul. It's good stuff, all around. And I get the feeling that Steven Mallorca and Co. probably put on a great live show.
Check out the award-winning video for
"Got Me Like,"
, as well as the video for
"Keep Up,"
which will be screening at SFIAAFF next week. To hear some more of P.I.C.'s music, check out the
official site
and their
MySpace
profile. The album is available at Amazon, iTunes, CDBaby and the usual online spots. Check it out.