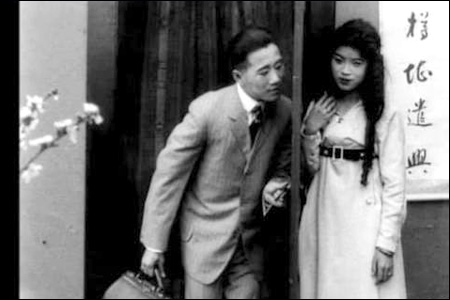 Here's an article on veteran filmmaker Arthur Dong's documentary
Hollywood Chinese
, a look at the 100-year history of the participation and portrayal of Chinese in feature films:
Arthur Dong documentary: 'Hollywood Chinese'
. I haven't been able to catch the film on its various festival stops, but the film is now playing in limited release at the Sundance Kabuki Cinemas in San Francisco at the Grand Lake Theater in Oakland.
I've just been perusing the
Hollywood Chinese
website
, and now I'm really interested in check out this film. Featuring interviews from actors, writers and directors like James Hong, Tsai Chin, Joan Chen, Nancy Kwan, Ang Lee, Justin Lin, James Shigeta and B.D. Wong, the film goes all the way back to the beginnings of Chinese American in cinema, looking at both the triumphs and ugly stereotypes of the industry.
Hollywood Chinese
also includes a look at
The Curse of Quon Gwon
, the very first Chinese American film known to exist today, only recently re-discovered in 2004. Written and directed by Marion Wong, it waws produced in 1916 by the Mandarin Film Company in Oakland, and is also one of the few American silent feature films made by a woman. That's pretty fascinating. To learn more about
Hollywood Chinese
and
The Curse of Quon Gwon
, check out the website
here
. Also see this article here:
Chinese film in focus
. And an interview with Arthur Dong in
Mother Jones
:
Hollywood Chinese: An Interview with Arthur Dong
.