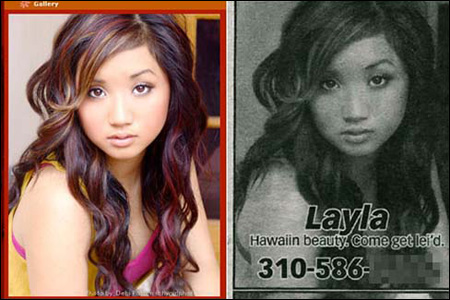 Brenda Song
, who stars in the hit Disney Channel show
The Suite Life of Zack and Cody
, has filed a lawsuit with a company called Vibe Media, which illegally used her image in an escort service print ad that appeard in
L.A. Weekly
:
Disney Actress Sues Over Escort Service Ad
. More here:
Song Sings: See My Face in Court!
Add some text and a phone number, and you've got an instant Asian prostitute.
As you can see, the ad has renamed her "Layla," who is allegedly a "Hawaiin beauty." Her attorney is looking for $100,000 in compensation, which actually sounds kind of low to me, considering that she's built an image and reputation as a clean-cut Disney star and the ad most certainly jeopardizes that. Maybe they thought they were using some random "exotic" image. It's time for Brenda to get legal on their ass. They've messed with the wrong Disney Channel star.