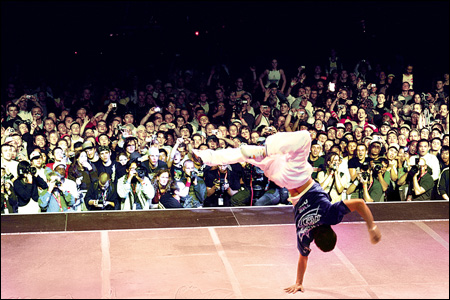 Trying something different around here... For those of you who have seen
Planet B-Boy
, you were probably impressed by the movie's kickass soundtrack. I was told that 90% of the film's music is actually original stuff, primarily composed specifically for the film by the most talented Woody Pak. This includes all the music featured during the Battle of the Year. How cool is that?
If you're like me, you had
Planet B-Boy's
badass theme song ringing in your ears after the movie... So check this out. You can purchase the theme track as a digital download right here, on angryasianman.com, for just $0.99. This is a semi-exclusive release in association with the good people at
Chaos Theory Music
. It's a fantastic track, guaranteed to get your ass moving. To download the song, click on the "BUY NOW" link below, which will take you to PayPal:
UPDATE: Sorry, the track is no longer available. Thank you to everyone who purchased and downloaded it.
You will dig it. Many thanks to Woody and Co. for making this available. To learn more about
Planet B-Boy
go to the official site
here
. To hear more of
Planet B-Boy's
music, go
here
. And to learn more about Chaos Theory Music, go
here
.