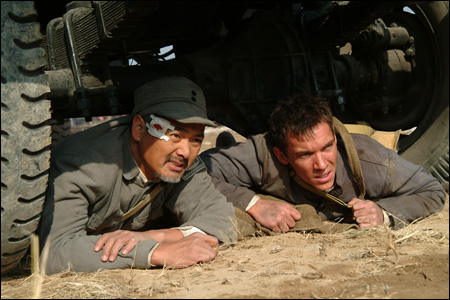 I recently saw the trailer for
The Children of Huang Shi
, starring Jonathan Rhys Meyers, Michelle Yeoh, Chow Yun-Fat and Radha Mitchell, and directed by Roger Spottiswoode. I had heard about this movie a while back, and based on the description, it didn't really sound like something I was interested in seeing. The trailer seems to confirm my suspicions... The story, in short:
Inspired by true events, the film tells the story of George Hogg, a young British journalist, who rescues 60 orphaned children. He leads them on a treacherous 1000-mile journey along the Silk Road, through the Liu Pan Shan Mountains into the spectacular Gobi desert. Over the course of the journey he falls in love with a determined, self-trained nurse, and makes a friend in Chen, the leader of a Chinese partisan group. Madame Wang, a surviving aristocrat, assists in guiding them to safety in a remote village near the western end of China's Great Wall.
You've got the Japanese on one side trying to kill and conquer, and you've got the Chinese nationalists on the other side trying to conscript boys to fight in their army. Who will save them from this terrible situation? Ah yes. The white guy. Everybody's hero! You will be saved, good Chinese people, by Jonathan Rhys Meyers.
Yet another story where the white guy comes in and saves all the helpless Asian folks. Sure, sure, I know—it's apparently based on a true story. It just goes to show, you can have movie set in anywhere, during any time period, and still find a way to have a white guy be the hero... in the fine tradition of movies like
The Last Samurai
. You gotta love it.
The Children of Huang Shi
opens in limited release on May 23.