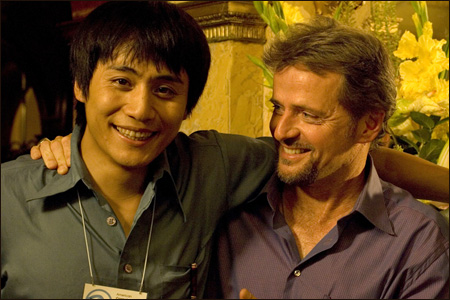 Finally got around to re-watching
Dark Matter
, which is currently playing theatrically in limited release. Directed by renowned opera and theater director Chen Shi-Zheng, and starring Liu Ye, Meryl Streep and Aidan Quinn, the film tells the story of Liu Xing, a brilliant Chinese science student pursuing a Ph.D. in the U.S. in the early 1990s. Driven by ambition, yet unable to navigate the hazards of academic politics, Liu Xing watches as his personal and professional pursuits crumble. Pushed to the edge, he explodes in a final shocking act of violence.
It's not a perfect film, but it raises some very interesting and compelling themes. In the end,
Dark Matter
is a dark, powerful film about the unattainable American dream. Liu Xing naively holds on to the idea of American academia as a free market of ideas, and American society as wide open to immigrants like himself.... only to be ultimately stifled by egos, pressure and politics. I think many students, particularly from abroad, who toil in graduate studies will be able to relate to Liu's isolation.
The film's violent conclusion will undoubtedly draw comparisons to last year's Virginia Tech shooting, and the timing of the theatrical release this month, on the anniversary of the massacre, seems rather unfortunate. But
Dark Matter
is actually loosely based on another school shooting at the University of Iowa in 1991, in which a Chinese student reacted violently after being passed over for an academic prize, killing five people and paralyzing a sixth before killing himself.
Here's an interesting article on director Chen Shi-Zheng, who gives some insight on making the film:
Bringing a School Shooting to the Screen
. The film opens this Friday, April 18 at theaters in Southern California. To learn more about
Dark Matter
, visit the website
here
.