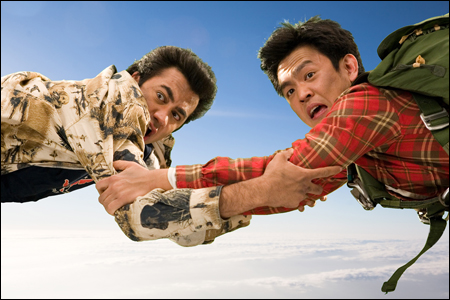 All right, friends. Today's the day. It's the long-anticipated return of your favorite stoner buddy heroes...
Harold and Kumar Escape from Guantanamo Bay
opens in theaters everywhere today. I have seen the movie, and it is everything you have probably expected... and more.
The movie pretty much picks up right where
White Castle
left off, with Harold and Kumar bound for Amsterdam. Things, of course, go horribly wrong when they duo are mistaken for terrorists ("Bong, not bomb!"), and their trip takes an unexpected detour to a prison cell at Guantanamo Bay. What follows is the epic journey of two friends. A story of boys becoming men. A tale illegal substances. Neil Patrick Harris.
I think I've talked for months about the significance of the the
Harold and Kumar
movies. I don't think I have explain why it's so significant to see a mainstream Hollywood comedy with Korean American and Indian American actors as the titular lead heroes. The crazy thing is, on one hand, this is your typical outrageous gross-out stoner comedy. It's gross. It's disgusting. You will see seminal fluid within the first five minutes of the movie. It takes everything to the next level of craziness, for better or for worse.
On the other hand, it's this completely revolutionary and political movie, by virtue of the fact that these two Asian American characters get to just
be
. Be stupid, be funny, be imperfect, be regular average dudes. And it's great. Before
Harold and Kumar
, this was unheard of. For years, the frat-boy comedy genre has pretty much been devoid of Asian Americans, except as the lame butt of jokes. Suddenly, we get to see the Asian kids as heroes? It shouldn't be such a crazy idea, but dammit, it is.
Harold and Kumar
is not for everybody. I know a lot of folks who did not like
White Castle
. If you didn't like the first one, for whatever reason, I guarantee you will hate the sequel. That said, most folks who are going to see
Guantanamo Bay
know exactly what they're getting into, boobie/pot/fart jokes and all. It should be a very interesting night at the movies.