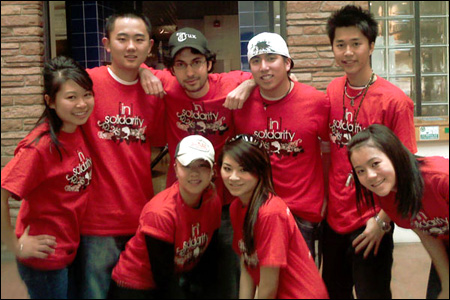 I recently learned about the
In Solidarity
campaign, which was born out of response to Max Karson's
"If it's war the Asians want..."
column at the University of Colorado back in February. The aim of the campaign is to unite not only the Asian American community but all diverse communities nationwide together to encourage racial acceptance and understanding, and to demand social justice in these instances.
Basically they're tired of these types of things continually happening to Asian Americans... and nobody doing anything about it.
You can purchase an
In Solidarity T-Shirt
($12) and wear it on May 2, 2008 to symbolize our unity as a community, all equally affected by this incident and ones similiar to it—and we all know there seems to be no shortage of such incidents, on college campuses and elsewhere. Get a shirt, take a photo of yourself wearing it, and send it in! All proceeds will go toward an "In Solidarity" event scheduled for an evening in August. To learn more about this movement, visit the website
here
. Or join the Facebook group
here
.