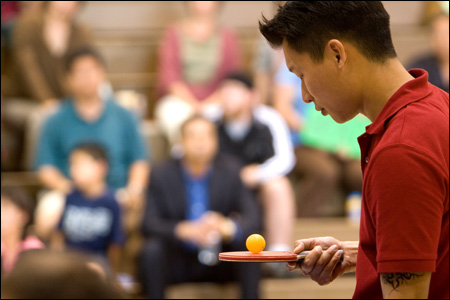 Check it.
Visual Communications
has announced its official lineup for the 24th annual Los Angeles Asian Pacific Film Festival, happening next month at the Director's Guild of America (DGA), Laemmle's Sunset 5 Theatres, ImaginAsian Center, The National Center for the Preservation of Democracy, and the Aratani/Japan America Theatre. The festival will kick off with Jessica Yu's comedy narrative feature debut,
Ping Pong Playa
, and close with Australian director Tony Ayres' moving drama
The Home Song Stories
, starring Joan Chen. Here's a big rundown of the festival's highlighted programs, according to the festival's press release:
HIGHLIGHTED PROGRAMS

OPENING NIGHT - Thursday, May 1 – DGA
PING PONG PLAYA - A Film by Jessica Yu - The Los Angeles premiere of PING PONG PLAYA marks filmmaker Yu's comedy narrative feature debut starring Jimmy Tsai, Roger Fan, Elizabeth Sung, Smith Cho, Andrew Vo, Khary Payton, Javin Reid, Scott Lowell and Peter Paige

CENTERPIECE FILM - Sunday, May 4 - DGA
KISSING COUSINS - A Film by Amyn Kaderali - Filmmaker Kaderali brings his debut feature film to this year's festival starring Samrat Chakrabarti, Rebecca Hazlewood, Gerry Bednob, Zack Ward, Jaleel White and David Alan Grier

CLOSING NIGHT - Thursday, May 8 - Aratani/Japan America Theatre
THE HOME SONG STORIES - A Film by Tony Ayres – Australian based director Ayres brings a personal story starring the amazing Joan Chen in one of her most powerful performances as a glamorous Shanghai nightclub singer and a mother of two who migrates to Australia and tries to begin a life for her family.

SPECIAL PROGRAMS

THE XIN LU BUS TOUR OF L.A. – teaming up with local filmmaker and longtime festival fave Ming-Yuen S. Ma, the Festival will present his four part series the way it was always intended to be shown: as a mobile bus tour of LA with the director.

LA ASIAN PACIFIC FILM FEST FILMMAKER SEMINARS - This year panels are open to filmmakers and to the general public that will include:

* TOKE 2: THE HAROLD & KUMAR STORY – join the writers/directors of HAROLD & KUMAR: ESCAPE FROM GUANTANAMO BAY – Jon Hurwitz and Hayden Scholossberg - along with actor John Cho, as they discuss the films and its franchise which has now achieved "classic" status amongst a new generation.

* MEDIA MESSENGERS: ASIAN PACIFIC AMERICANS AND OUR POLITICAL VOICE – meet the filmmakers, actors and media movers who have chosen to use their craft and embraced the media tools and the internet to level the political field and ensure that Asian Pacific American voices are being heard.

* SUCCEEDING AT SCREENWRITING – Oscar® nominated film scribe Iris Yamashita (LETTERS FROM IWO JIMA) will join renowned UCLA screenwriting professors Kris Young and Weiko Lin in this screenwriters boot-camp covering topics from pitching, choosing the right idea, character sketches, treatments, structure, writing habits and other tools and issues that help in developing a strong and successful script.

* VISUAL STORYTELLING – hailed cinematographer Matthew Libatique (IRON MAN; REQUIEUM FOR A DREAM) is slated to be one of the guests on a panel of visual geniuses featured in this panel of artists who have mastered the lens to bring films to life visually.

NATIONAL SPOTLIGHT: THE PHILIPPINES
This year, the global cinematic spotlight will be on the Philippines with six films from Filipino international artists and two from Filipino American directors. These new filmmakers are fast becoming the "new wave of modern cinema" and the festival has cultivated some of the best from these new visionaries:

* SLINGSHOT - Brilliante Mendoza
* FOSTER CHILD – Brilliante Mendoza
* TRIBU (TRIBE) – Jim Libiran
* YEARS AGO WHEN I WAS A CHILD OUTSIDE – John Torres
* NEO-LOUNGE – Joanna Vasquez Arong
* PHILIPPINE SCIENCE – Aureaus Solito
* SANTA MESA – Ron Morales
* THE SENSEI – Diana Lee Inosanto

2008 FEST HIGHLIGHT: ASIAN AMERICAN FEMALE FILMMAKERS
This year, an unprecedented number of 10 Asian American female directors have feature films in our program. These include:

* PING PONG PLAYA – Jessica Yu
* NEVER FOREVER – Gina Kim
* YOURS TRULY, MISS CHINATOWN – Daisy Lin Shapiro
* OH SAIGON – Doan Hoang
* JOYFUL LIFE – Anita Chang
* WINGS OF DEFEAT – Risa Morimoto
* AGAINST THE GRAIN – Ann Kaneko
* LONG STORY SHORT – Christine Choy
* THE SENSEI – Diana Lee Inosanto
* CHANTS OF LOTUS – Fatimah Tobing Rony
Other film programs will be announced at a later date. For ticket and program information, and to purchase tickets, visit the festival website at
www.vconline.org
or contact Visual Communications at (213) 680-4462 x68. Tickets will go on sale online today. The Los Angeles Asian Pacific Film Festival runs May 1-8.