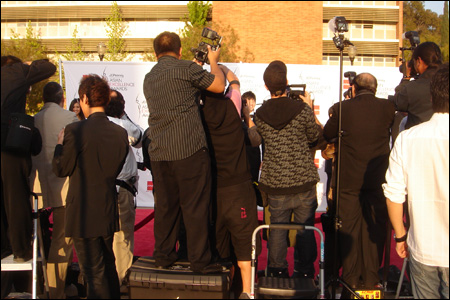 As I mentioned before, last week, I attended the
2008 Asian Excellence Awards
at UCLA's Royce Hall. Hosted by
Dancing with the Stars'
Carrie Ann Inaba and
MADtv's
Bobby Lee, the purpose of the annual event is "to honor Asian and Asian Americans' accomplishments in the arts and entertainment, sports and business." To see some photos from the red carpet, go
here
. Here are this year's winners:
OUTSTANDING FILM- Lust, Caution - Director, Ang Lee

OUTSTANDING FILM ACTOR - Tony Leung, Lust, Caution

OUTSTANDING FILM ACTRESS - Sharon Leal, This Christmas

OUTSTANDING TELEVISION ACTOR - B.D. Wong, Law & Order, SVU (NBC)

OUTSTANDING TELEVISION ACTRESS - Lindsay Price, Lipstick Jungle (NBC)

SUPPORTING TELEVISION ACTRESS - Sonja Sohn, The Wire (HBO)

SUPPORTING TELEVISION ACTOR - Rex Lee, Entourage (HBO)

FAVORITE TV PERSONALITY - Cheryl Burke, Dancing with the Stars (ABC)

FAVORITE REALITY STAR - JabbaWockeeZ, America's Best Dance Crew (MTV)
In addition, they presented honorary awards to YouTube co-founder Steve Chen, who received the Pioneer Award, and Oympic figure skating champion Kristi Yamaguchi, who received the special Inspiration Award. Hooray.
The event was fun, balanced with a lot of lame and cheesy. I've always had my share of objections to the way they've organized and run this show, but at the same time, what else have we got? There's the Latin Grammys, the BET Awards, et cetera—why not have our own awards show too? So we've got the Asian Excellence Awards. At the very least, it was an opportunity to gather a lot of folks from the community together and share a drink or two. Here are a few thoughts I had on the evening...
Jabba and Kaba... together again!
Awesome to see the show kick off with a dance battle between JabbaWockeeZ and Kaba Modern. You all know how much I loved and supported them on
America's Best Dance Crew
. It's even better watching them perform live. It reminded me how awesome it would've been if
both crews
had made it made it to the top two spots in the competition. Skills.
Bai Ling
was in the house, being her crazy usual Bai Ling self. You had to cringe listening to her stumble through reading her lines off the teleprompter. She's like an alien. She defies description. But like every good train wreck, you just can't seem to avert your eyes.
B.D. Wong
won Outstanding Television Actor for his role on
Law and Order: SVU
. You know how to guarantee that you'll win in your category? Be the only one in your category who actually shows up to the award show. No joke. Naveen Andrews, Daniel Dae Kim, Masi Oka, Sendhil Ramamurthy—all no-shows. Not that B.D. doesn't deserve it. He's a talented actor who's been on television for years. And he brought his mom to the show! That's classy.
Sonja Sohn
won Outstanding Supporting Television Actress for her role as Kima Greggs on
The Wire
. If you weren't aware,
The Wire
is pretty much the greatest show in the history of television. Her acceptance speech was extremely moving, talking about her mother's influence on her, and feeling accepted as a mixed-race Asian within the community. Love her.
Oh, another sure sign that you're going to win in your category? Have your co-star present the award.
The Wire's
Andre Royo
(who is not Asian) was on hand to read Sonja Sohn's name off the envelope. I got to meet and talk with him briefly at the afterparty, and he was really cool, friendly guy. I was totally geeking out. I met Bubbs!
Tia Carrere
performed two songs from her Grammy-nominated Hawaiian music album
Hawaiiana
... and she was great. I mean, I knew she could sing—remember her as rocker chick Cassandra in
Wayne's World
? Okay, maybe you don't want to remember that. Long way from there though. Good to see her doing something she really loves.
Holy smokes. It's
Steven Seagal
. Looking like he's seen better days. The guy comes off exactly the way you'd imagine. Dude, you're not Asian. No matter how hard you try, no matter how many martial arts moves you think you've mastered,
you're not Asian
. While presenting the award for Outstanding Film Actress, he went ahead and professed his love for all things of the Asian persuasion. Who invited this guy? Good Lord, don't encourage him.
While I probably would've given the Outstanding Film Actress award to Tang Wei, it was nice to see
Sharon Leal
win for
This Christmas
, if only because her acceptance speech was so nice. Yes, make no mistake, she is one of us. Her mother is Filipino, and she can do an impression of her, accent and all.
From where I was sitting in the balcony, I could see
Ron Jeremy
, live in the disgusting flesh. The girl sitting next him looked thoroughly grossed out. Presumably not his date, I hope. This has got to the be third or fourth time I've seen the guy lurking around at an Asian event. And there were dudes who want to take pictures with him, and shake his hand. Nasty. Of all people, why would you want to
touch
Ron Jeremy's hand?
Kelly Hu
presented the Pioneer Award to YouTube founder
Steve Chen
. In contrast, I would like to shake that guy's hand—in just three years, YouTube has basically revolutionized the way everybody uses and views the internet. Also, I just want to know what it feels like to shake a gajillionaire's hand.
From my seat, I could also clearly see
Ian Ziering's
blond head among a sea of black-haired heads in the audience. Just sitting there, enjoying the show. I had to wonder, what is he thinking? At this very moment,
what is Steve Sanders thinking?
The weirdest, most off-color moment of the evening had to be
Rob Schneider
receiving the tongue-in-cheek "Half Asian" Award, honoring his illustrious film career in acclaimed movies like
The Animal
,
The Hot Chick
, and of course,
Deuce Bigalow
. The whole segment seemed unnecessary and downright insulting, especially since a large number of the night's winners were also, in fact, half-Asian. And none of them had anything remotely as ridiculous as Schneider's "yellow face" role in
I Pronounce You Chuck & Larry
on their resume. Bad idea.
I'll admit, Schneider did have one funny moment during his acceptance speech, where he remarked that "Outstanding Asians on TV" awards also happen to be the
"Only Asians on TV awards."
He's got a point.
Each year, one way the Asian Excellence Awards attempts to generate more buzz, excitement and publicity about the event is to anchor the show with some "big name" non-Asian stars, mixed in with all the lesser-known Asian American personalities. It's sad, however, when the biggest names on your red carpet happen to be Quentin Tarantino (making his third annual appearance at the show) and that guy who played Mini-Me.
So by the end of the show, when Steve Sanders walks onstage to present the award for Outstanding Television Actress, that's a good time put all your money on
Lindsay Price
to win for
Lipstick Jungle
. It's the
90210
connection, baby.
Okay, so I know it seems like I'm mostly pointing out the lame stuff from the show, but really, there was a lot to applaud and cheer about. I appreciate what the awards are all about, and cach year, it does get a little bit better. We need this. Despite the demise of AZN Television, the awards will be televised this year for everyone to see, and I hope they continue to go on and grow for years go come. The Asian Excellence Awards will air this Thursday, May 1st at 6:00pm on E! Check your local listings, set your DVR. The show will also be available On Demand from Comcast starting May 7. To learn more about the awards, go
here
.