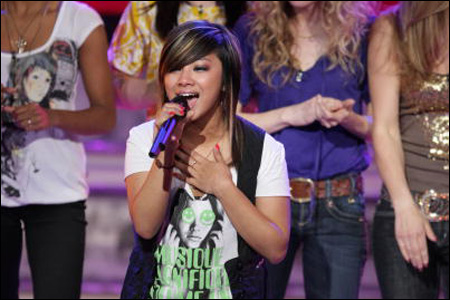 Ah, time to say goodbye to Ramiele Malubay. The 20-year-old Filipino American from Miramar, Florida was voted off
American Idol
last night:
Fans give Ramiele Malubay the hook on "Idol."
She received the fewest amount of votes in this week's Dolly Parton-themed competition. I'm sorry, Ramiele. I forgot to vote this week.
While she's had a solid fan base that has kept her in the competition up to now, I guess it wasn't enough to take her all the way. She's cute, and she's got a big voice, but she's never been able to produce that "wow" moment, and her performances up to now have been rather underwhelming. For the most part, it was a nice run. Hopefully she garnered enough to attention to get a career off the ground. She's young, and has a big future ahead of her.